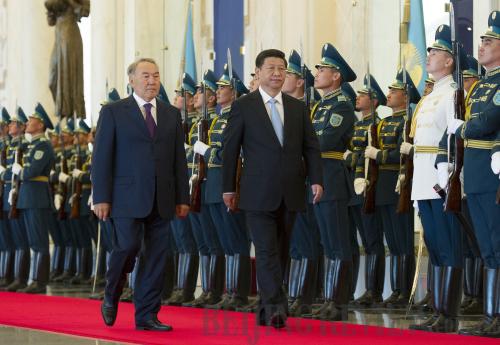 WELCOMING CEREMONY: Chinese President Xi Jinping is welcomed by Kazakh President Nursultan Nazarbayev upon his arrival in Astana, Kazakhstan, on September 6 (HUANG JINGWEN)
For the coverage please click here
Around 2,150 years ago, a brave diplomat of the West Han Dynasty (202 B.C.-A.D. 8)named Zhang Qian embarked on an adventure to exploit a new passageway linking the capital of West Han, today's Xi'an of Shaanxi Province, with scattered tribes in today's Central Asia. His mission was completed after 22 years of persistent efforts. The tough journey was commemorated with a beautiful name: the Silk Road. In the following centuries, the road not only served as a business passage that brought fortune to countries along the route, but also boosted cultural and friendly communication among them in an increasingly connected world.
Today, China and its Central Asian neighbors agree to strengthen cooperation to resume prosperity of the region, as a peaceful, stable and prosperous neighborhood is the common aspiration of the region.
An economic belt
Chinese President Xi Jinping paid a journey in early September to four Central Asian states, Turkmenistan, Uzbekistan, Kazakhstan and Kyrgyzstan. During his visits, the Chinese president and his Central Asian counterparts reached a consensus to strengthen their partnership in various fields such as economy, politics, culture and security. Xi stated China's Central Asian policy and suggested that China and Central Asia should join hands to build a Silk Road economic belt to boost cooperation.
"A new Silk Road economic belt is on the rise again," said Sun Zhuangzhi, an expert with the Chinese Academy of Social Sciences (CASS). He pointed out that owning a total population of 3 billion and an unparalleled market both in scale and potential, the proposed economic belt will advance growth in countries in Eurasia, which have highly complementary economies and huge potential in resources, market and technology, providing vigorous momentum for development and cooperation to the benefit of the region and even the world.
Xi proposed for the first time the joint establishment of a "Silk Road economic belt" to boost cooperation between China and Eurasian countries on September 8 in a speech delivered at Kazakhstan's Nazarbayev University in Astana.
Xi suggested that relevant countries enhance communication and green-light regional economic integration in terms of both policy and law, while working together to formulate plans and measures for regional cooperation.
The Chinese president said that they should work to improve traffic connectivity so as to open the strategic regional thoroughfare from the Pacific Ocean to the Baltic Sea, gradually move toward the set-up of a network of transportation that connects Eastern, Western and Southern Asia, explore ways to facilitate trade and investment, promote local-currency settlement so as to improve their immunity to financial risks and their global competitiveness and strengthen friendly people-to-people exchanges. Xi proposed that mutual understanding and traditional friendship be promoted among the countries in the region.
The grand regional cooperation structure, Xi believed, can be set up through "strengthening policy communication, road connections, trade facilitation, currency circulation and heart connection."