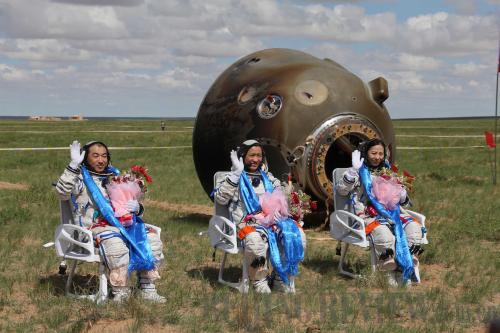 SAFE HOMECOMING: Astronauts Zhang Xiaoguang, Nie Haisheng and Wang Yaping (left to right) wave after emerging from the re-entry capsule of Shenzhou-10 spacecraft, which landed in north China's Inner Mongolia Autonomous Region on June 26 (WANG JIANMIN)
The success of the most recent Shenzhou space mission marks China's coming of age as a formidable player in mankind's endeavor to explore the universe.
Shenzhou-10, China's fifth manned spacecraft, stayed in orbit for 15 days between June 11 and 26, representing the longest crewed space mission in the country's history. Three astronauts completed automated and manual docking with the Tiangong-1 space module.
A highlight of the mission was a 51-minute physics class given by astronaut Wang Yaping aboard Tiangong-1, broadcast live to more than 60 million students and teachers in 80,000 middle schools across the country on June 20. Besides demonstrating principles of weightlessness and the surface tension of fluids in space, Wang, the country's second female astronaut, answered questions gathered from 330 grade school kids watching from a Beijing auditorium.
During their 12-day stay aboard Tiangong-1, the three "taikonauts" carried out physical, technological and scientific experiments.
The Shenzhou-10 is China's first application-oriented spaceflight.
Carolyn T. Sumners, Vice President of Astronomy and Physical Sciences at Houston Museum of Natural Sciences, told Xinhua News Agency that the transition from experimental to functional flight means China now has a reliable transportation vehicle to get people and supplies to space, a crucial step toward building a permanent space station.
China plans to set up a permanent space station by 2020, the goal of the third and final phase of the manned space program.
Authorization and funding had been given for the first phase of the program in 1992, which focused on delivering a crew to space. Four preliminary missions were unmanned, beginning with the launch of Shenzhou-1 on November 20, 1999. Yang Liwei became the first Chinese national to enter space on October 15, 2003, aboard Shenzhou-5. Two years later, Shenzhou-6 carried two astronauts and stayed in space for six days in October 2005, ending the first phase of the program.
The second phase of the program, focusing on astronauts' extra-vehicular activities and space rendezvous and docking procedures, started with the launch of Shenzhen-7 in September 2008. During this mission, China's third human spaceflight and first mission with three crew members, astronaut Zhai Zhigang conducted China's first spacewalk.
Shenzhou-9 took off on June 16, 2012, with a crew of three, and successfully docked with the Tiangong-1 laboratory on June 18.
Wang Zhaoyao, Director of the China Manned Space Agency, said in Beijing on June 26 that the Tiangong-2 space laboratory will be launched around 2015, and an experimental core space station module around 2018. The aim is to build a 60-ton multi-module space station by 2020.
Between 2015 and 2020, a string of cargo and manned spacecraft will be launched to deliver supplies and transport astronauts to the space lab and space station, Wang said.
Wang also revealed that China has invested 39 billion yuan ($6.35 billion) in the manned space program since it was started in 1992.
"China did a great job in successfully sending another three astronauts into space," said George Smoot, a U.S. physicist who received the 2006 Nobel Prize for his research into the Big Bang. During his visit to the Harbin Institute of Technology in northeast China's Heilongjiang Province on June 16, he also said that China's manned space program has achieved rapid development in a "less costly way."
Zhou Jianping, chief designer of China's manned space program, said that the United States spends as much on its space program in one year as China spent on its program in 20 years.
Fruitful missions
Since 1987, China has used recoverable satellites and the Shenzhou spacecraft to carry thousands of crop seeds and microbial strains to space to grow new varieties during more than 20 trips. More than 100 new varieties of plants produced by mutation are being cultivated on a massive scale.
"Seeds in space may mutate, making use of high-energy particles and radiation," said Director Xie Keqiang of the Guangchang White Lotus Research Institute. Not all seeds mutate, as cosmic radiation is random, which is why some samples required several space trips and terrestrial experiments, he added.