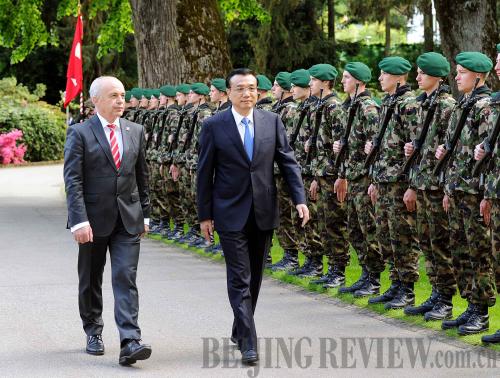 SWISS TRIP: Chinese Premier Li Keqiang is accompanied by Ueli Maurer, President of Switzerland, at a welcoming ceremony in Bern on May 24 (LI TAO)
This promise is based on China's endogenous development power. Being a permanent member of the UN Security Council and the world's second biggest economy, China has an increasingly close connection with the world, sharing larger common interests with other countries. China needs a stable neighboring and international environment, as well as vigorous and reciprocal economic relationships, to continue its development. Caring only about its own development while ignoring that of others would amount to running backward. China's achievements have raised expectations of what it is capable of. It is now remolding its relationship with the world through its interactions abroad.
China's global outlook represents the right choice of history. In past centuries, the definition of "great power" and the conditions for becoming a "great power" have been slowly but constantly changing. In ancient times, military power and economic strength usually had direct links. Military powers at that time seized territory and fortune through bloody conquest. A country's land mass could basically decide its financial strength, which generally was formed through tax, plunder and forced tributes. After the Industrial Revolution, advanced technology became the crucial element deciding a country's national strength. As a consequence, the method of acquiring global fortune changed from conquest to trade and mastering the passages of trade.
The world has become a global village since the beginning of the 21st century. Well-developed transportation, cutting-edge technology and flourishing trade have highly integrated the economies of different countries. Even great powers must seek cooperation while gaining fortune from trade to avoid problems. Many economies are still struggling with the financial crisis, which began on Wall Street in 2008 and soon spread to the whole globe. All these changes require great powers and countries hoping to become great powers to adjust their policies in keeping with the changing situation.
Historically, the relationship between a pair of great powers, usually between an established power and an emerging power, was regarded as zero-sum fatalism. But today, against the backdrop of globalization, the theory claiming that a great power must be a hegemonic power and a hegemonic power is the strongest has become an outdated conclusion with proven defects. Nowadays, conducting cooperation between countries can be the best way to realize interests. Conflicts, on the contrary, would damage all sides.
Therefore, sticking to the path of peaceful development is China's only choice. As China asserted, other countries should also choose such a path—the only one that can lead to win-win cooperation across the world.
China-U.S. relations
Judging from the current situation, the direction and orientation of the China-U.S. relationship can largely decide whether the 21st century will be defined by cooperation and win-win outcomes, or a zero-sum game.
Chinese leaders have come up with a timely suggestion to establish a new type of relationship between great powers, hoping to prevent history from repeating itself. They envision China and the United States—two big powers on the verge of a new starting point in history—-treating each other's development and growth as opportunities instead of threats. They call for further cooperation, not mutual restraint, to turn these opportunities into actualized common development, so as to overcome the historical trend of great power conflicts.
The U.S. side has actively responded to China's proposal. President Obama called Xi on March 14, agreeing that bilateral relations were facing a historical opportunity to chart their future course. He said that the United States is willing to make efforts together with China to build a new type of relationship that is based on healthy competition rather than strategic gamesmanship.
This strategic consensus reached between the two presidents will certainly create momentum behind the joint efforts of China and the United States to draw up blueprints for the future.
The author is vice president of the China Institute of International Studies
Email us at: yanwei@bjreview.com