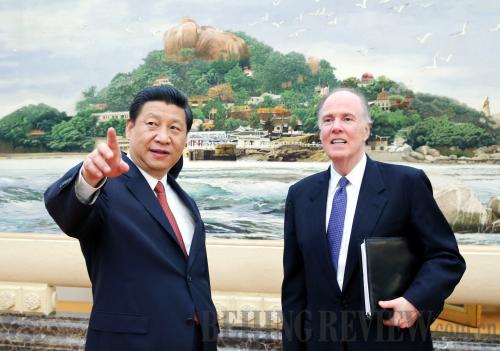 PREPARING FOR THE FUTURE: Chinese President Xi Jinping talks with visiting U.S. National Security Advisor Tom Donilon in Beijing on May 27 (YAO DAWEI)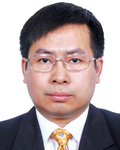 Since a once-in-a-decade leadership transition in March placed President Xi Jinping and Premier Li Keqiang at the helm of China, the international community has been closely observing the country's foreign policy moves.
Will China's diplomacy change significantly or take on new characteristics? Will China become aggressive, or continue its path of peaceful development? The international community looks to the words of the Chinese leaders and their actions to find the answers.
Multi-faceted diplomacy
The Chinese Ministry of Foreign Affairs declared on May 21 that Xi would pay state visits to Trinidad and Tobago, Costa Rica and Mexico from May 31 to June 6 at the invitations of the three countries' leaders. U.S. President Barack Obama also extended an invitation to Xi, who will meet his U.S. counterpart on June 7-8 at Sunnylands, a 200-acre estate in Rancho Mirage, California. It will be the first meeting between the top leaders of China and the United States since Xi took office. It will stand as a certain climax of the new Chinese leadership's diplomatic activities.
Chinese leaders have been on a tight diplomatic schedule since March. Beijing has recently been the most active diplomatic stage in the world, as foreign leaders arrived one after another. China successfully hosted the Boao Forum for Asia in early April, with leaders and guests from Asia, the Americas and Europe gathering in south China. While inviting foreign representatives in, Chinese leaders have also paid visits to other countries to strengthen communication with the rest of the world.
Xi made his first round of visits after taking office in March, conducting trips to Russia, Tanzania, South Africa and the Republic of Congo, and participated in the BRICS Summit in Durban, South Africa. Vice President Li Yuanchao took his first foreign trip after assuming office on May 8-16, paying official visits to Argentina and Venezuela. Premier Li made his first trip abroad to India, Pakistan, Switzerland and Germany on May 19-27. State Councilor Yang Jiechi visited Mongolia on May 8-9.
On May 1-5, Foreign Minister Wang Yi paid visits to four Asian countries: Thailand, Indonesia, Singapore and Brunei. Before wrapping up the trip, Wang pointed out in an interview that his voyage of communication and cooperation was spreading an important message—that is, the new Chinese leadership highly values China's relationships with its neighbors, and China is willing to consider ASEAN a priority in its regional diplomacy.
This series of foreign visits and important trade and economic agreement signings are weaving an all-dimensional diplomatic network, which covers China's relations with big powers, neighboring countries and other developing countries. Chinese leaders manage differences with a frank and sincere attitude, and discuss the future with other countries from a practical and developmental standpoint. They emphasize cooperation and win-win results, and answer the world's doubts about China with their actions.
In spite of its GDP having become the second biggest in the world, China remains a developing country. This essential attribute means that China must regard its relations with neighboring countries and other developing nations as its diplomatic priority. As relations with them become closer, China's interests will be more secured.
The right path
The report of the 18th National Congress of the Communist Party of China in November 2012 states China's global vision: closely heeding human destiny, inclusiveness and mutual learning, win-win cooperation and joint protection of international fairness and justice. Discussing China's relationship with the world, Xi said Chinese people cherish patriotism while also maintaining an international view. China will shoulder more international duties and obligations within the scope of its capability, so as to make greater contributions to the peace and development of mankind as its national strength grows.