As the second and the third largest world economies respectively, both China and Japan wield great influence within Asia as well as the whole world. And as neighbors, the two countries' relationship is of tremendous significance. However, Sino-Japanese ties have soured since the Japanese government "purchased" some of the Diaoyu Islands in the East China Sea last September.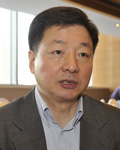 In an exclusive interview with Beijing Review,  Zhou Mingwei, a member of the Chinese People's Political Consultative Conference (CPPCC), the country's top political advisory body, and President of China International Publishing Group, said the positive effect of people-to-people diplomacy should be further revitalized to improve the deteriorated Sino-Japanese bilateral relationship.
Zhou, who is also an executive member of the Chinese People's Association for Friendship with Foreign Countries, said that people-to-people diplomacy is a unique feature of the Sino-Japanese relationship. Such efforts have played a very important role in the bilateral relations between the two, to an even greater degree than China's foreign relations with other surrounding countries.
"Around World War II, Sino-Japanese relations underwent their most difficult period. However, after the war – even though bilateral official relations did not improve much – there was still a kind of great civil effort to promote non-governmental exchanges, which laid a solid foundation for the eventual normalization of relations between China and Japan," said Zhou.
Chinese people suffered enormously from Japan's war of aggression. However, the many years of friendly people-to-people exchange between the two countries did much to restore their bilateral relations, Zhou continued.
The current difficulty in Sino-Japanese relations has been single-handedly caused by the Japanese side. The root cause of the Diaoyu Islands issue lies in Japan's illegal seizure and occupation of China's territory. The actions of Japan have violated the consensus reached by the older generation leaders of the two countries over the island dispute. Japan's move has also violated the overall interests of the people of the two countries for pursuing peaceful coexistence and cooperating economic development, Zhou noted.
"China and Japan are neighbors," said Zhou. "This determines that the two countries must handle the relations between each other properly. It would contribute not only the development of the two countries, but also the peace and stability of the region as well as the whole world."
Zhou noted that the island dispute has dealt the biggest blow to Sino-Japanese relations since the two countries restored their official relationship. However, the basis for civil bilateral exchange is still strong. It should play a more positive role in improving the bilateral relations.
"People of the two countries should try their best to prevent the problems left over from history from damaging the bilateral relationship as well as the overall interests of the two countries," said Zhou.