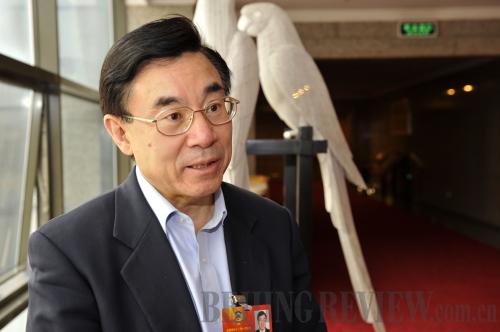 (SHI GANG)
As a veteran of the translation business and a great master of Chinese to English translation, Huang Youyi, Vice President and editor-in-chief of China International Publishing Group, is still keenly aware of the legislation of translation in his proposals to the annual session of the Chinese People's Political Consultative Conference (CPPCC), the country's top political advisory body.
Huang, a CPPCC member, said that although there are many translation companies in China, the market lacks a sufficient number of qualified translation professionals.  
"Without a related market access system, anyone can register a translation company. But this comes at the price of customers being unable to directly learn the strength of those companies," said Huang.
The reason for the translation market's disorder, Huang claims, is that China has not yet established a qualification standard for translation companies and industrial regulations and laws.
Huang said a new legal framework is urgently needed to provide better regulation and training of translation professionals.
He also suggested that the government departments related to translation issues work together to build a credible public talent pool or searchable database of translation professionals. Translation professionals or companies registered there should make public their qualification, specialty, translation works and so on, which would allow customers to more easily find the most suitable option for the job.
In addition, Huang pointed out that China is still lacking in qualified Chinese to foreign language translators.
"The success of Chinese Nobel laureate and literary master Mo Yan lies in both his beloved stories and excellent translations," said Huang. "Mo takes a very international outlook in publishing his works overseas; his works have the most foreign language editions among Chinese writers."
To carry weight internationally, more works of Chinese literature should be translated into foreign languages, Huang noted. More Chinese-foreign language translators should then be cultivated, he added.