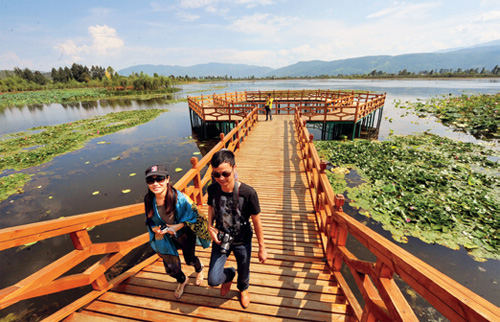 A REVIVED LAKE: Tourists visit a wetland park on Erhai Lake. Improved sewage management has had a dramatic effect on water quality (CFP)
Yu Xiaolan, a farmer from Cuijiayao Village, Youyu County in north China's Shanxi Province, and a delegate to the 18th National Congress of the Communist Party of China (CPC), said she was thrilled when hearing Hu Jintao, former General Secretary of the CPC Central Committee, advocating ecological progress while delivering a report at the five-yearly congress.
Yu's home county used to be a desert area plagued by sandstorms. Thanks to massive reforestation programs, its forest coverage rate has risen from 0.3 percent more than 60 years ago to the current 53 percent.
Yu, 46, who has planted trees in formerly barren mountains totaling more than 667 hectares over the past 20 years, has been awarded several times for her work. "In my hometown, green development is a concept deep in our mindset. Reforestation programs have involved many people," she told Beijing-based Economic Information Daily.
Delivering his report, Hu said, "We must give high priority to ecological progress, work hard to build a beautiful country and achieve the lasting and sustainable development of the Chinese nation."
China has been aware of the severity of the burden of pollution and energy consumption amid its economic miracles over the past decades.
At the 17th CPC National Congress in 2007, Hu advocated ecological progress for the first time in his report. The term was also translated as "conservation culture" or "ecological civilization" in official documents.
In 2008, China elevated the State Environmental Protection Administration to a full-fledged ministry, which is tasked with "stepping up environmental improvement and ecological protection and accelerating the building of a resource-saving and environmentally friendly society."
The country has pledged in its 12th Five-Year Plan (2011-15) to cut energy consumption per 10,000 yuan of the GDP ($1,605) by 16 percent while slashing carbon emissions by 17 percent before 2015. That will help China meet its pledge of reducing carbon intensity by 40-45 percent by 2020 from the 2005 level. China's use of wind farms and the use of solar-powered water heaters both top the world.
In his report at the 18th CPC National Congress, Hu called for efforts to preserve more farmland, and leave to future generations a beautiful homeland with green fields, clean water and a blue sky.
Such a move of elevating environmental protection to higher strategic importance immediately attracted wide attention. While a focus on protecting the environment is welcomed by aspiring local government officials who are ready to promote their cities and provinces as tourism and investment destinations, environmental NGOs who desire a bigger say in public affairs also applaud the unprecedented emphasis on environmental ideals.