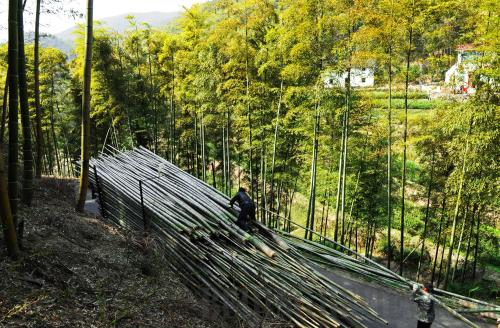 BAMBOO BUSINESS: Anji County in Zhejiang Province is rich in bamboo forests. In 2011, the bamboo industry contributed to an average of 60 percent of local farmers' income (TAN JIN)
In Anji County, a place in east China's Zhejiang Province long known for its bamboo forests, the autumn scenery is no less charming than in any other season. Large expanses of blooming sunflowers and sweet-scented osmanthus lure tourists from far and wide.
On September 4, the county government received the UN Habitat Scroll of Honor Awards, the most prestigious award from the world body to recognize individuals and institutions instrumental in improving living conditions in urban centers around the world.
More than 20 winners have come from China since the award was launched in 1989.
Anji epitomizes China's effort to build an ecologically friendly society. In the 1980s, the county developed polluting industries, such as papermaking, chemical engineering and building material manufacturing, to boost its economy. Industrial waste seriously contaminated water and reduced biodiversity, while resources such as wood and minerals were overexploited. After recognizing the adverse effects of environmental degradation, the county closed down a number of polluting enterprises.
Since 2001, the county has implemented an ecological improvement program, which has not only tremendously changed its environment, but also boosted the local economy by developing eco-tourism, green agriculture and low-carbon industries such as bamboo processing.
Today, the county of nearly half a million people boasts a very low per-capita energy consumption, as well as superb air quality. Every new building is topped by a solar power unit to reduce electricity costs. Green spaces cover about 51 percent of the city's area, and the city treats all industrial waste water and 92 percent of household sewage, reported the local newspaper Huzhou Daily.
Green governance
"China paid a heavy environmental cost for economic and social development in the past three decades, and the current development model cannot be continued," said Xia Guang, Director of the Policy Research Center of the Ministry of Environmental Protection. "Environmental protection has been put at an increasingly important position in China's governance philosophy."
In the 1980s, environmental protection was made a basic national policy, yet environmental policies were made separately from economic policies. In the 1990s, the strategy of sustainable development was put forward, and environmental protection was taken into consideration in the creation of economic policies. However, taking action on the environment had not yet become mainstream ideology and had not significantly affected people's economic behavior and lifestyle.
In October 2003, the Third Plenum of the 16th Central Committee of the Communist Party of China (CPC) endorsed the Scientific Outlook on Development.
The Scientific Outlook on Development ideology puts people first and calls for comprehensive, balanced and sustainable development instead of a blind pursuit of GDP growth.
In October 2007, the Scientific Outlook on Development was comprehensively explained and written into the Party Constitution at the 17th CPC National Congress.
To implement the Scientific Outlook on Development, the Chinese Government set a target to lower energy consumption per unit of the GDP by 20 percent from the base level in 2005 and to cut the level of major pollutants by 10 percent during the period from 2006 to 2010.
President Hu Jintao, also General Secretary of the CPC Central Committee, called for promoting a culture of conservation in his report to the 17th CPC National Congress, emphasizing the need to set up an energy- and resource-efficient and environmentally friendly industrial structure, growth model and consumption pattern.
Hu set the goals at a time when 62 percent of the country's major rivers were seriously polluted, 90 percent of waterways flowing through urban areas were contaminated, more than 300 million residents lacked access to clean drinking water, and quite a number of localities failed to fulfill the required quotas for pollutant emission reduction and energy conservation.
The concept reflects an important change in the CPC's understanding of development. Rather than emphasizing economic expansion as the core of development as it did in the past, the Party has realized balancing the relationship between humans and nature is pivotal to sustainable development.
Since the concept was proposed, it has guided policies and practices across the country.
"More than 1,000 cities and counties have worked out blueprints and timetables for promoting a culture of conservation that features harmonious relations between people and nature, as well as environment-friendly consumption and lifestyles," said Li Ganjie, Vice Minister of Environmental Protection, in July 2011.