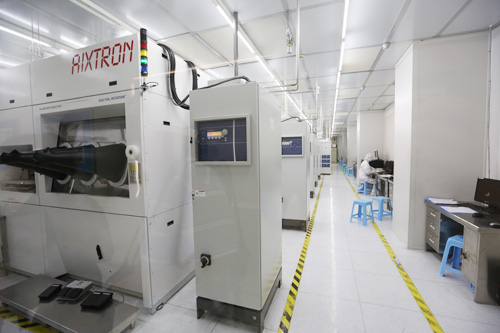 LOW-CARBON TECHNOLOGY: An employee works in a precision instrument laboratory belonging to Lattice Power, a world-leading light-emitting diode manufacturer based in Nanchang National Hi-tech Industrial Development Zone, on August 8 (WAN QUAN)
Aixihu Lake lies in the eastern part of Nanchang, capital of central China's Jiangxi Province, and is within the jurisdiction of the Nanchang National Hi-tech Industrial Development Zone (NNHIDZ).
From 2005 to 2008, many real estate developers were eyeing up the lakeshore for commercial development. However, the management of NNHIDZ refused all bids. Instead, it tried to improve the environment surrounding the lake and plant trees. In 2007 the land was transformed into a public park.
Now full of singing birds and colorful flowers, the park has become an "air filter" of NNHIDZ. Residents nearby go there in the morning or on holidays to enjoy their leisure time. Office workers can take a breath of fresh air during breaks or after work.
The sound ecological environment also brings NNHIDZ great economic benefit.
In March 2008, when Hou Weigui, Board Chairman of ZTE Corp., the world's fifth-largest telecom equipment supplier by sales, made inquiries about investment in NNHIDZ, he was fascinated by the its sound ecosystem, and decided to invest in building cellphone production lines in the development zone.
NNHIDZ does not take all comers. In line with Nanchang's low-carbon city development strategy, NNHIDZ is striving to build a first-class low-carbon industrial park in China. It actively attracts hi-tech enterprises to settle in the zone but also specifies environmental standards that all projects in the zone should reach.
"Though we lost out on much investment, we have attracted more high-quality and environment-friendly enterprises," said Wu Yujiang, Deputy Director of NNHIDZ.
NNHIDZ is focusing on green industries including low-energy lighting, photovoltaics, outsourcing, information technology, bio-pharmaceuticals and new-energy vehicles. With a favorable investment environment, it has gathered a big group of renowned enterprises in low-carbon industries from home and abroad, such as Lattice Power, Thermonamic Electronics (Jiangxi) Corp., Kohler, Yates Foil and hi-tech companies including Microsoft, ZTE Corp. and Inventec Appliances (Nanchang) Corp.
Low-carbon industries have now become the pillar of NNHIDZ's success.
Lattice Power, a world leader in light-emitting diode (LED) manufacturing, is the only Chinese enterprise with intellectual property rights in the industry. With its silicon substrate-based gallium nitride LED technology, Lattice Power's products enable better communication and greater productivity throughout the world.
Thermoelectric technologies are based on the Seeback effect, the conversion of temperature changes into electricity. With independent research and many patents, the products of Thermonamic Electronics (Jiangxi) Corp. are very popular in Western markets and widely used in low-carbon industries, such as converting car exhaust heat into electricity. Thermoelectric technologies are also used in manufacturing energy-efficient fans, generators and stoves.
The outsourcing industry, with little energy consumption and free of pollution, is a development priority of NNHIDZ. It's now home to hundreds of outsourcing enterprises including Hitachi, Microsoft, Dell, Oracle and Bertelsman, which have a combined office area of 300,000 square meters.
Jason Chuang, Director of Performance Management Development of Inbentec Appliances (Nanchang) Corp., a Taipei-based software enterprise, said that as Nanchang is building a low-carbon city, the fine investment environment provided by NNHIDZ and its talent pool make it an ideal place for investment.
Nanchang has 30 colleges and institutes. Their graduates provide the intellectual underpinning for the development of hi-tech outsourcing industry in NNHIDZ.
In 2011, the main business income of the industrial zone reached 90 billion yuan ($14.17 billion). NNHIDZ, which accounts for 0.08 percent of Nanchang's total size, has created about 25 percent of the added value of the city's large industrial enterprises.
"By 2015, NNHIDZ will be built into the largest LED chip manufacturing base worldwide and the largest outsourcing industrial base in central China. Its main business income is expected to surpass 200 billion yuan ($31.50 billion)," Wu said.
Email us at: yulintao@bjreview.com