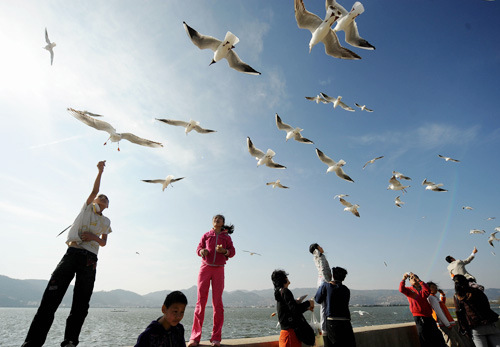 FLY IN BLUE SKY: Tourists at Dianchi Lake in southwest China's Yunnan Province feed black-headed gulls on February 16 (LIN YIGUANG)
Pan Shiyi, a real estate magnate in Beijing, appeared on an online talk show—Friend—with Bei Zhicheng, a software businessman, on September 5. This time, their topic had nothing to do with their businesses, but a tiny unit of measurement, best known by its abbreviation: PM 2.5.
The term refers to airborne particulate matter less than 2.5 micrometers in diameter. Such pollutants are small enough to penetrate lung tissue, posing far greater health risks than comparatively larger micro-particles of dust, dirt, soot, smoke and liquid droplets.
Pan has been keeping an eye on PM 2.5 data in Beijing for one year. "I came across this issue in August 2011 and learned of its harm on environment and our health," Pan said.
Air is of good quality when the PM 2.5 measurement is below 70 micrograms per cubic meter. But the PM 2.5 concentration in Beijing has remained worse. From August 29 to 30, the reading topped 280 micrograms per cubic meter at its peak in the city, according to the Beijing Environmental Monitoring Center.
Compared with Pan, Bei has been studying this issue for a much longer time. "I have had chronic sinus problems since high school, so I am very sensitive to dirty air," Bei said. "Beijing's air quality is getting worse every year and I have to install air purifiers in the apartment to deal with it."
According to statistics acquired by Bei, since the middle of the 1990s, the number of Beijing residents suffering from lung cancer increased threefold. "We have to do something to stop the situation from worsening," Bei said.
In China, air quality monitors used to measure only particulate matter less than 10 micrometers (PM 10), a considerably lower standard of precision. Particles within this range of measurement can be four times the size of PM 2.5 particles, and are not considered to be a form of environmental pollution that poses significant risks to human health.
In late 2011, the Ministry of Environmental Protection started to publish PM 2.5 data for 33 cities. By the end of 2012, the number will increase to 74.
The new national standards preliminarily passed by the Ministry of Environmental Protection last December expanded air quality readings to include PM 2.5 and tightened rules for some already monitored pollutants, such as PM 10 and nitrogen oxides.
Outdated law
In recent years, there have been many cases of people showing concerns for environmental problems across China.
On June 23, residents in Qidong, east China's Jiangsu Province, protested an industrial waste pipeline project. Hours after the demonstration, the local government decided to cancel the project.
It is the latest in a string of protests sparked by fears of environmental degradation. Data from the Ministry of Environmental Protection show the number of mass demonstrations related to environmental concerns has increased at an annual rate of 30 percent.
With increasing numbers of protests against controversial industrial projects in China, members of the Standing Committee of the National People's Congress (NPC), the country's top legislature, agreed that a draft amendment to the Environmental Protection Law should address rising public discontent at their bimonthly session last month.
"Those protests, spurred by fears of environmental degradation, have stirred nationwide discontent and stoked calls for expanding citizens' rights and sufficiently consulting with local residents when assessing environmental impacts of proposed industrial projects," said Xie Kechang, a lawmaker and deputy to the NPC.
Xie revealed that in the first half of this year, 192 cities on the Chinese mainland had acid rain, and PM 2.5 levels increased sharply in major industrial regions.
The average PM 2.5 level in Beijing and its surrounding regions, the Yangtze River Delta and Shandong Peninsula in east China, the Pearl River Delta in the south and the Sichuan-Chongqing area in the southwest is about 80 micrograms per cubic meter, significantly higher than the average level in the United States.