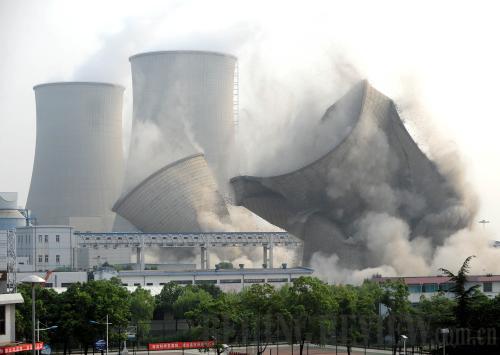 EMIT LESS: Cooling towers at a thermal power plant in Changxing, Zhejiang Province, are demolished. The plant has stopped operation of two 125-megawatt generation sets of high energy consumption (XU YU)
No steaming hot "white vapor" will come out of the cooling towers in any factories in Laiyang, Shandong Province, in two years' time. This is not because these factories will stop production, but because the "white vapor" will be recycled to become heat and transfer to the heating pipes of nearby buildings.
The "reusing surplus heat" project is now under construction by Zhejiang Dun'an Artificial Environment Co. Ltd. (Dun'an Environment). On June 25, Duan'an Environment signed an engineering contract with the municipal government of Laiyang, according to which the city will utilize industrial surplus heat and waste heat, as well as waste heat in urban sewage, to meet the demand of heating for both urban households and industrial use. With a planned investment of 500 million yuan ($78.86 million), the project is expected to complete in July 2014.
Listed in Shenzhen, Dun'an Environment is a professional manufacturer of refrigeration auto-control components, electric refrigeration central air conditioners and terminal equipment. But in the first half of this year, engineering projects utilizing industrial surplus heat became its major source of income. According to its announcement, in the first half of this year, the company received four orders for industrial surplus heat utilization projects, with a total contract amount of 3 billion yuan ($473.19 million), an equivalent of 60 percent of the company's sales revenue in 2011.
Since the second half of 2011, Dun'an Environment has been engaged in construction of energy conservation and emission reduction projects, supplying central heating for urban residents and industrial purpose by utilizing industrial surplus heat and waste heat, as well as waste heat in urban sewage. The company plans to earn an aggregate of 13 billion yuan ($2.05 billion) by 2015 from construction of energy conservation and emission reduction projects.
According to Dun'an Environment, the Chinese Government's policies and measures of saving energy and reducing emissions offer a bright future for the company.
On August 21, the State Council issued the 12th Five-Year Plan on Energy Saving and Emission Reduction, which says the country will actively utilize industrial surplus heat as the major source for urban heating.
"According to our investigation, during the 12th Five-Year Plan (2011-15) period, projects of reusing industrial surplus heat will save 90-100 million tons of coal equivalent, offering a market of 300 billion yuan ($47.32 billion)," said Zhou Fuqiu, Director of the Center for Energy Systems of the Energy Research Institute of the National Development and Reform Commission (NDRC).
Dun'an Environment, in its effort to support the country's energy conservation and emission reduction policy, will make use of its advantages in technology research and development, as well as its excellence in system integration, to provide general contracting services of energy conservation, including planning, designing, investment, construction, operation, management and service.
Five-year targets
According to the 12th Five-Year Plan on Energy Saving and Emission Reduction, by 2015, the energy consumption per 10,000 yuan ($1,577.29) of GDP will drop by 16 percent from the 2010 levels, and emissions of major pollutants will drop by 8-10 percent.
The plan also sets detailed targets for different types of industries. For example, for industrial enterprises with annual sales revenue of more than 5 million yuan ($788,644), the energy consumption to produce 10,000 yuan of added value should drop by 21 percent.
In north China, 400 million square meters of buildings will be upgraded for higher standards of energy conservation in heating supply.
Xie Zhenhua, Vice Minister of the NDRC, said China has been concentrating on energy conservation and emission reduction. To realize this goal, China is slowing down its economic growth, eliminating dilapidated production capacity and developing emerging industries so as to transform the economic growth pattern and readjust the structure of economic growth. However, adjustment of the industrial structure is making slow progress, with the proportion of the tertiary industry in the total GDP remaining low and that of the heavy industry in the total industrial added value rising from 68.1 percent to 70.9 percent. With industries featuring high energy consumption and high emissions growing too rapidly, the energy conservation target has not yet been met.
In the meantime, China's energy utilization efficiency is still low. China's GDP accounts for 8.6 percent of the world's total, but its energy consumption takes up 19.3 percent of the global total. China's energy consumption per 10,000 yuan of GDP is more than twice the world's average. In 2010 the energy consumption of China's iron and steel, building materials and chemical industries was 10-20 percent higher than the international advanced level.