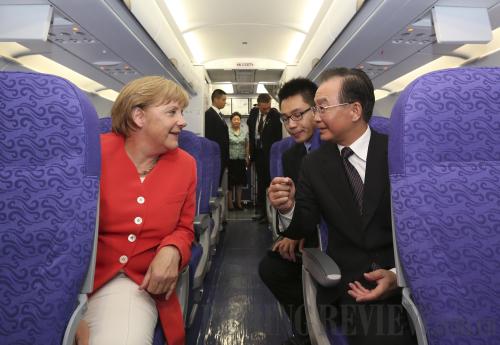 ACROSS THE AISLE: Chinese Premier Wen Jiabao and German Chancellor Angela Merkel have a chat aboard the 100th Airbus 320 airplane, which was recently completed in a Tianjin assembly plant, on August 31 (DING LIN)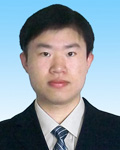 German Chancellor Angela Merkel wrapped up a two-day Beijing trip on August 31. It was her second visit to China this year and sixth overall as German chancellor. Also, it was the third time this year that Merkel had met with her Chinese counterpart, Premier Wen Jiabao. The frequency and intensity of meetings between these heads of government within such a short time highlights the vital position of the two in each other's foreign strategies.
The visit, during which the second round of Sino-German governmental consultations was held, was of a significantly large scale and high level with a broad range of issues. Consisting of seven ministers, two state secretaries and about 20 business leaders from major enterprises including Siemens, Volkswagen, BASF, Thyssen Krupp and the European Aeronautic Defense and Space Co., Merkel's most recent delegation to China was the largest in history. While she was in China, Merkel held talks with top Chinese officials including President Hu Jintao and Premier Wen.
Substantial achievement
Before Merkel left for Beijing, German officials for the first time described Sino-German relations as a "special relationship" in a media briefing, implying the bilateral relationship has reached a new height. The term had previously been used by Germany only among its Western allies.
Germany is an export-oriented economy. However, as Europe continues to grapple with its debt crisis while the U.S. economic recovery stutters, Germany is in an awkward situation where its traditional external market is shrinking. In contrast, China, as the world's second largest economy, provides big market potential for German manufacturers. In Germany's new foreign policy guidelines released in February, the German Government declared to focus its foreign affairs on relations with emerging countries. In the meantime, the ruling alliance has also modified its Asia policy as of late. The Sino-German relationship has become Germany's top foreign policy priority, which is most evident by the three meetings between Merkel and Wen in one year.
The two countries have continued to strengthen bilateral economic cooperation, widely seen as the generator and stabilizer of these relations. The two sides signed 13 cooperation agreements in various fields during Merkel's visit, and Chinese and German enterprises inked commercial contracts worth nearly $7 billion. The contracts are of great symbolic significance for Germany, which faces problems such as an austere external environment and economic slowdown. The deals will play a positive role in boosting the German economy and promoting German exports. Moreover, the contracts involve industries that China is interested in, such as electric vehicles, biotechnology and environmental protection, sectors where there is ample opportunity for the two countries to seek win-win cooperation.
The ongoing dispute between Chinese and European solar photovoltaic companies did not constitute any barrier for the dialogue. Germany's SolarWorld filed a complaint seeking import tariffs on Chinese-made solar products in July. If investigation on the case begins, it will become the largest trade dispute of Chinese enterprises with foreign companies in terms of total sum. Thanks to the high political trust and a maturing dispute settlement mechanism, the two sides agreed to resolve the anti-dumping issue through dialogue rather than by resorting to anti-dumping proceedings.
Merkel's trip also aimed to show China that Europe is determined and capable in solving the debt crisis. In September, the Federal Constitutional Court of Germany will bring in a verdict on the constitutional feasibility of the European Stability Mechanism, the euro zone's permanent rescue fund. And the European Commission, the European Central Bank as well as the IMF will also give an appraisal report on the status of Greece's fiscal deficit reduction. In a sense, the European debt crisis is at a crucial juncture. Therefore, the German chancellor is expecting China to play a positive role in helping to confront the crisis.
Besides expressing wishes for China to purchase more euro-zone bonds, Merkel stressed Europe has the ability to overcome the crisis and the crisis even might promote the integration of Europe. She hopes the outside world will regain confidence in Europe and provide a stable and positive external environment for recovery. Chinese leaders have offered a positive response to Merkel's concern. Wen said China is willing to continue investing in euro-zone government bonds as long as it can gain assurance that risks are under control. China has confidence in the European economy, the euro zone and the euro, he said.