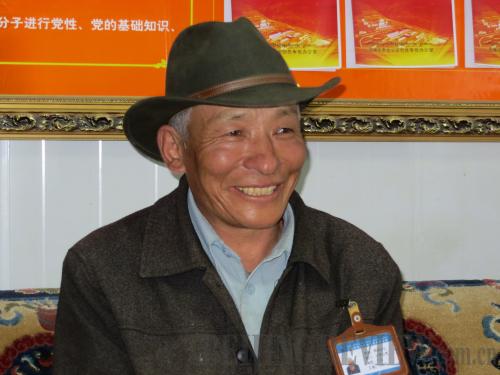 NEW LIFE: Ngawang Tsering says his family's income has increased remarkably by working for the mine (COURTESY OF CHINA GOLD) 
In 2006, the landscape around Gyama Valley, located almost 70 km from Lhasa, capital of the Tibet Autonomous Region, could be described as post-apocalyptic. Photos released on websites around the world showed a portrait of devastation: large pools of murky water, dead wildlife strewn about and a natural environment almost completely destroyed by mining operations. The incident put the spotlight on the government: How had they allowed mining companies to strip the region of its resources while polluting the environment?
Today, the scene has been transformed, replaced with a panorama of lush green trees and grasslands, new roads and infrastructure, and cleaner mining facilities, giving the local people a better life. The change came about after Tibet Huatailong Mining Development Co. Ltd., a subsidiary of China National Gold Group Corp. (China Gold), arrived in Gyama in 2008 with one mission: clean up the area and establish sustainable mining operations.
Prior to China Gold's arrival, 15 small privately owned companies had facilities in Gyama. While holding the legal documents to mine, they seriously damaged the region's fragile ecology with their haphazard operations.
In 2008, China Gold was given the green light to exploit Gyama's copper-polymetallic deposit. After more than 40 rounds of negotiations in half a year, China Gold integrated mining rights in Gyama.
Over the past three years, Huatailong has enhanced prospecting efforts. A total of 252 million yuan ($39.87 million) was spent, discovering 4.95 million tons of copper, 530,000 tons of molybdenum, 135 tons of gold, 6,600 tons of silver and 580,000 tons of lead and zinc, the company said.
The first phase of the Gyama project commenced in July 2010 after two years of construction, with environmental protection remaining Huatailong's top priority throughout the project's planning and implementation phase.
Previous mining companies, using outdated techniques and equipment, left several ponds of tailings that allowed waste water to pollute local water sources. Copper levels in the waterways were far beyond the levels of national safety standard.
"These private mining companies were here to make money and got out leaving behind pollution and a damaged environment," said Lukhang Yeshe, Assistant General Manager of Huatailong.
Huatailong spent 3.5 million yuan ($553,797) filling in the open ponds and planting trees on reclaimed land.
Chai Liwei, an engineer at Huatailong, said the company employs the dry discharging technology to dispose of tailings, with waste water dried out and recycled. The technology saves 34,000 tons of water every day.
To cope with polluted rivers and waterways, Huatailong established a sewage disposal plant and invested 27 million yuan ($4.27 million) in reducing the level of copper ion in the available water supply, thus making the water quality meet the national standard.
In order to protect grasslands and reduce dust during transportation of ores, the company spent 200 million yuan ($31.65 million) building a 5.5-km-long underground tunnel. According to Teng Yongqing, General Manager of Huatailong, the tunnel, with an annual delivery capacity of 2 million tons, can deliver products from the mining area directly to the ore processing plants.
In 2011 the company spent 10.44 million yuan ($1.65 million) on greening projects around its mining facilities, and an additional 4.4 million yuan ($696,203) on drip irrigation facilities.
To save energy, Huatailong has installed more than 10,000 square meters of solar energy facilities to provide heating and hot water to the staff apartments, reducing emissions of carbon dioxide of 5,000 tons each year.
Since its establishment, Huatailong has spent an aggregate 180 million yuan ($28.48 million) on environmental protection, accounting for more than 11.7 percent of the project's total investment, much higher than the required proportion of 3 percent by the country.
The latest round of green efforts was in April this year, when the company planted 2,000 aspens in the area.