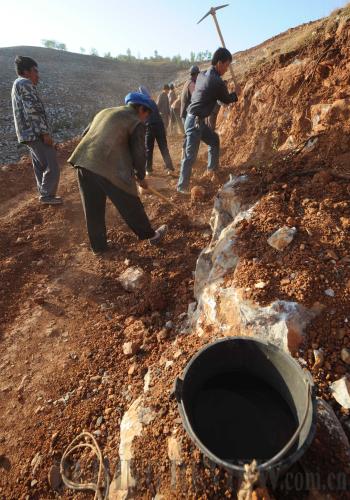 SEEKING SURVIVAL: Local villagers till land affected by stony desertification in Huize County, southwest China's Yunnan Province, on April 15, 2010 (XINHUA)
Stony desert areas in China had shrunk to 12 million hectares by the end of 2011, representing a 7.4-percent reduction from the 2005 figure, according to the second round of stony desertification monitoring released by the State Forestry Administration (SFA) on June 14.
It also revealed that by the end of 2010, a total of 3.03 million hectares of land had been reclaimed from stony deserts in 451 counties around the country.
"Stony deserts have been shrinking at an annual rate of 1.27 percent over the past few years," Zhang Yongli, Deputy Director of the SFA, said at a recent press conference.
The latest round of monitoring was carried out from early 2011 to mid-May 2012, covering 463 counties in eight provincial regions heavily plagued by incursions of stony deserts, including Hubei, Hunan, Guangdong, Sichuan, Yunnan and Guizhou provinces, as well as Chongqing Municipality and Guangxi Zhuang Autonomous Region. More than 4,000 technicians were involved in the monitoring activities and an information system consisting of about 40,000 GPS-based monitoring points was set up.
"The results show that the expansion of stony desertification has initially been brought under control, and the ecological environment in karst regions has greatly improved," Zhang said.
Cancer of the Earth
Stony desertification refers to the processes that transform a karst area that was covered by vegetation and soil into a stony landscape almost devoid of soil and vegetation. Dubbed a "cancer of the Earth," it is a serious ecological problem in the subtropical karst regions in south and southwest China.
According to SFA statistics, the country has about 45 million hectares of karst landscape, which has been formed through the dissolution of bedrock. Of its 12 million hectares of existing stony desert areas, nearly 65 percent are in Guizhou, Yunnan, and Guangxi.
"Stony desertification is still a major threat to China's karst terrain areas, since it leads to water shortages, severe soil erosion and frequent natural disasters," said Xiong Kangning, a professor at the South China Karst Research Institute of Guizhou Normal University.
Guizhou is the region most severely affected by stony desertification. According to official statistics, of its total 17 million hectares of territory, 62 percent is karst landforms and 20 percent can be classified as rocky desert terrain.
In Guangxi, of the total 8.3 million hectares of karst landscapes, 2.4 million hectares are stony deserts, according to statistics from the regional forestry department.
The causes of stony desertification are various. The fragility of karst ecology in tropical and subtropical regions is the prime cause. The karst ecosystem is often characterized by droughts, floods, soil erosion, surface collapse, limited biodiversity and low primary productivity.
"The low soil forming capability of soluble rocks and their relative shortage in nutritive elements result in thin soils with low fertility, which readily succumb to stony desertification," said Yuan Daoxian, a professor at the Institute of Karst Geology of Chinese Academy of Geological Sciences.
But human activities play a much bigger role in triggering stony desertification.
According to studies by the International Research Center on Karst under the UN Educational, Scientific and Cultural Organization, the population density in China's karst regions is 208 persons per square km, 1.5 times of the nationwide average. But internationally accepted standards put it at no more than 100 persons per square km.
Population pressure has made it difficult to restore the ecological environment in areas threatened by stony desertification. To meet demand for food in those areas , people are obliged to grow maize on steep slopes. Soil in fissures between rocks has been tilled and bare soil after harvests results in severe erosion, stripping the slopes of soil in a few years' time and reducing the area to wasteland.
Other human activities that aggravate stony desertification include fuel gathering, bush fires and air pollution.
"Many karst regions in China are short on energy resources. To obtain fuel, local residents clear the bush and grass on rocky slopes year after year and so make vegetation regeneration very difficult," Yuan said.