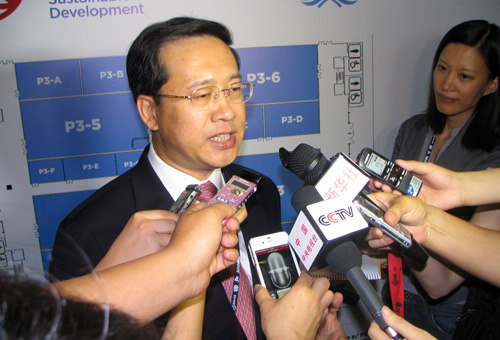 FINAL ACHIEVEMENT: Assistant Foreign Minister Ma Zhaoxu speaks about the final outcome document of the Rio+20 UN Conference on Sustainable Development in Rio de Janeiro on June 19 (ZHOU JIANXIONG)
An agreement has been reached on the wording of the final draft of the resolution of the Rio+20 UN Conference on Sustainable Development after closed-door negotiations, said Ma Zhaoxu, Assistant Foreign Minister and deputy head of the Chinese delegation.
Ma said during a press briefing with Chinese journalists on June 19 in Rio de Janeiro, Brazil, that the agreement brought an end to one and half years of preparatory negotiations for the document, the Future We Want, which will be formally approved at Rio+20 from June 20-22. More than 130 heads of state and government are expected to attend the meeting, including Chinese Premier Wen Jiabao.
This round of negotiations began on June 16 at the initiative of Brazil after the preceding sessions of official talks stalled on the previous day.
According to Ma, the final draft was generally inclusive, balanced and set in a positive tone. It addressed the major concerns of all parties, and will play an important role in promoting global sustainable development. This was a very gratifying achievement, and it reflected the basic concerns of China and those of developing countries, he commented.
The document reiterated the principled stances at the 1992 Earth Summit in Rio de Janeiro, in particular, that of "common but differentiated responsibilities," considered as the basis of international cooperation on sustainability. With regard to green economy, Ma said the document called for respecting each country's sovereignty, national conditions, as well as development stage, and attaching greater importance to eradicating poverty around the world.
Ma said the Brazilian Government made special contributions to the successful conclusion of the agreement, and that the Chinese delegation closely cooperated with the Brazilian side.
The document urged developed countries to fulfill their commitments to helping developing countries. These include providing to the developing world aid of up to 0.7 percent of their gross national product, extending environmentally friendly technology transfers under favorable terms to developing nations, and helping them build capacity, according to Ma.
It also called on the world community to set up a high-level forum with a view to guiding all countries with their coordinated economic and social development, as well as environmental protection.
Ma said he hoped all nations will make joint efforts to push for more comprehensive, positive and practical results at Rio+20, so that new vitality can be injected into the global mission for sustainable development.
 (Reporting from Rio de Janeiro)