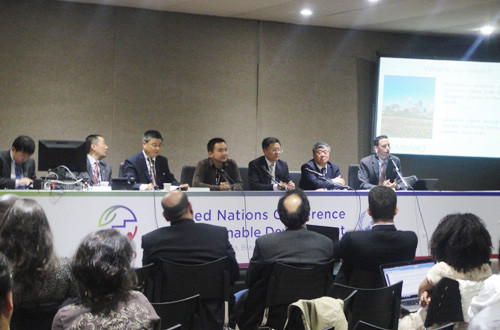 PLAYING A ROLE: Chinese scholars and entrepreneurs introduce their contributions to sustainable development in China at an NGO forum in Rio de Janeiro on June 16 (ZHOU JIANXIONG)
At a forum on June 16 at the Rio Center, Rio de Janeiro, Brazil, a group of Chinese scholars and entrepreneurs introduced what they have been doing in order to push for sustainable development in China. The forum, titled Resource Environment and Sustainable Development, was organized by the Chinese Society for Sustainable Development, along with Tsinghua-Federal University of Rio de Janeiro China-Brazil Center for Climate Change and Energy Technology Innovation, the Administrative Center for China's Agenda 21, China NGO Network for International Exchanges, the UN Association of China, and the International Green Economy Association.
Seven Chinese panel speakers made their presentations at the forum. Their topics ranged from clean energy use, sustainable urban construction programs and transportation to green economy and innovative recycling agriculture.
Teng Fei, a professor from the Institute of Energy, Environment and Economy at Tsinghua University, introduced his research on clean fuel consumption, while Cui Dapeng from the Low Carbon Research Group, elaborated his conception of green economy, which, according to him, incorporates a low-carbon approach and social inclusiveness. Cui also briefed the audience on how some trial projects on green economy are being carried out in China.
Chen Guanghui, Chairman of Huangshan Multidimensional Biotechnology Co., in east China's Anhui Province, showed how local farmers and his company benefited from the various biotechnologies his company has invented.
He Jiankun, Director of the Institute of Low Carbon Economy, Tsinghua University and Vice Chairman of the Chinese Society for Sustainable Development, said China has made significant progress in sustainable development over the past two decades, but along with rapid economic development and urbanization, the country is now under increasing pressure from resource depletion, environmental degradation and climate change. He called for closer international cooperation so that developed and developing countries can join hands to cope with these challenges and further promote global sustainable development.
Following the presentations, the panelists answered questions raised by the audience, and shared their views on sustainable development with them.
About 20 Chinese NGOs participated in the sideline events of the Rio+20 UN Conference on Sustainable Development in Rio de Janeiro, where they were engaged in dialogues and information exchanges with their foreign counterparts on virtually all kinds of sustainability issues.
(Reporting from Rio de Janeiro)