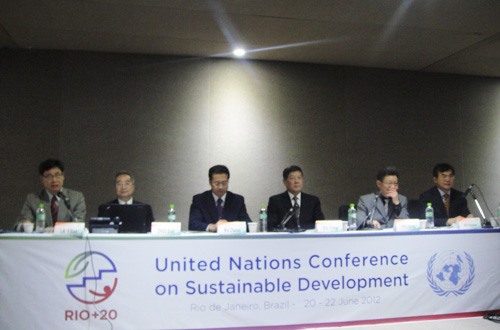 CHINESE COMMITMENT: Assistant Foreign Minister Ma Zhaoxu (third left), Vice Chairman of the National Development and Reform Commission Du Ying (fourth left) and UN Under Secretary General Sha Zukang (second right) attend a sideline event of the Rio+20 UN Conference on Sustainable Development in Rio de Janeiro on June 16 (ZHOU JIANXIONG)
China has set a number of new sustainable development goals from 2015 to 2020, said Du Ying, Chairman of the Chinese preparatory committee for the forthcoming UN Conference on Sustainable Development, or Rio+20, in Rio de Janeiro on June 16. He made the announcement at a meeting in the Rio Center, the official venue of the UN conference scheduled for June 20-22.
The targets cover non-fossil fuel energy use, energy consumption per unit of GDP, carbon dioxide and other emissions, as well as forest area, he said.
Du, also Vice Chairman of the National Development and Reform Commission--the policy maker of China's national sustainable development--and an active participant in global climate change negotiations, said China has been a firm supporter of global sustainable development initiatives, and has made remarkable progress in terms of economic development mode, social security and welfare systems, as well as sustainable resource use and environmental protection.
Despite the progress, Du pointed out that the country is still under intense pressure due to its resource constraints and poverty relief efforts. China is therefore determined to step up sustainable development. Du also called for closer international cooperation in this field.
Sha Zukang, UN Under Secretary General and Secretary General of the summit, and Ma Zhaoxu, Vice Chairman of the Chinese preparatory committee and Assistant Foreign Minister, also attended the meeting.
Ma announced the Chinese Government's expectations for Rio+20. These include upholding the principle of "common but differentiated responsibilities," balanced and coordinated economic and social development and environmental protection, broad prospects for green economy, the establishment of an institutional framework for sustainable development, earnest support and assistance for developing countries, as well as the launch of a sustainable development goal-setting process. Ma announced that Chinese Premier Wen Jiabao will attend and address the summit.
Zhou Dadi, a senior research fellow with the Energy Research Institute based in Beijing, presented his research paper on China's sustainable development at the meeting. Zhou was a member of the Expert Review Panel of the China National Report on Sustainable Development, a comprehensive compilation of the country's endeavors in sustainable development.
(Reporting from Rio de Janeiro)