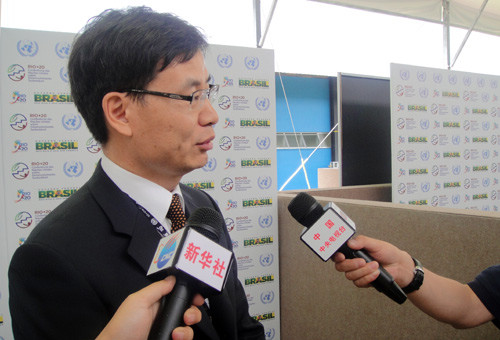 TAKING A STAND: La Yifan, China's representative in UN sustainable development negotiations, speaks to reporters in Rio de Janeiro on June 16 (ZHOU JIANXIONG)
On June 16, the last day of the third preparatory meeting for the Rio+20 UN Conference on Sustainable Development in Rio de Janeiro, Brazil, La Yifan, China's representative in the negotiations, told a group of Chinese reporters that despite the fact that certain progress had been made over the past week, the meeting failed to meet expected goals, as the participating parties remained divided on a number of key points in the final draft document, such as the principle of sustainable development, implementation measures, green economy development, reforms in the institutional framework, as well as the sustainable development goals. China hopes the parties involved will work in a more constructive and forward-looking way and try to bring a successful end to the negotiations before the Rio+20 Summit starts on June 20.
With regards to green economy, one of the issues that the negotiating parties failed to agree upon, La said many developing countries think the greatest challenge they now face is poverty eradication, and that developing green economy requires resources, funds and technologies that they do not possess. Hence they hope developed countries will provide help in the form of financial aid, technology transfer and capacity building. Developed nations, however, are not so enthusiastic due to their current economic difficulties.
La acknowledged that China maintains the same position as that of the Group of 77 developing countries, which also includes Brazil, the host of Rio+20. China has been actively involved in coordinating with these countries and helping them reach consensus among themselves, he said.
Looking beyond the UN conference, La said countries around the world should work toward their sustainable development goals in ways that conform to their national conditions and development stages.
(Reporting from Rio de Janeiro)