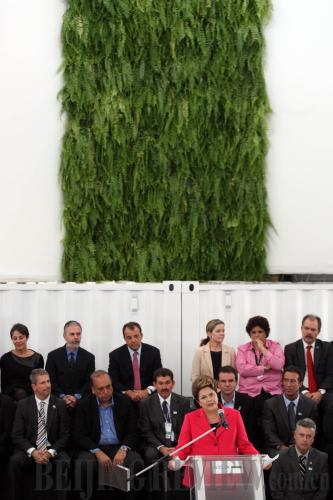 A GREEN FUTURE: Brazilian President Dilma Rousseff speaks at the opening ceremony of Brazil's pavilion for the Rio+20 UN Conference on Sustainable Development in Rio de Janeiro on June 13 (XINHUA)
In a symbolic gesture to heighten public awareness of greenhouse gas emissions, Antonio de Aguiar Patriota, Brazilian Foreign Minister, swiped his own credit card via an iPad tablet on June 14 to pay for the greenhouse gas emissions he personally created for traveling to Riocentro. Two young volunteers helped calculate the actual amount on the spot before the minister made his voluntary payment. Riocentro, or the Rio Center, is the official venue for the UN Conference on Sustainable Development, which will be held in Rio de Janeiro, Brazil, from June 20-22.
An official from the Brazilian National Organizing Committee of the UN conference, better known as Rio+20, disclosed at a following press briefing that the online emission compensation tool was created by the Brazilian Government in partnership with the UN Development Program Brazil office and Caixa Economica Federal, a Brazilian banking institution. The online instrument will show to each individual participating delegate how much greenhouse gas emissions he or she has brought about by their air travel to Rio de Janeiro, and it will also allow them to make compensation or donation for the damage to the environment. Through the convening period of Rio+20, volunteers with tablets that can access the online compensation tool will be available in all the conference venues to assist donors.
The official also announced his committee has set up a special unit to analyze, mitigate, and compensate for social and environmental impacts generated by the organization of the conference. Nine areas will be covered in this latest effort to push for more sustainable development in Brazil. They include management of emissions, water resources, solid waste management, energy, transportation, sustainable construction, sustainable procurement, sustainable tourism and sustainable food. The unit will use internationally recognized methods to measure emissions from Rio+20. Greenhouse gas emissions that could not be reduced, and those that occur due to the conference, such as fuel consumption and waste disposal, will be compensated for as well, according to the official.
To make the UN conference on Sustainable Development worthy of its name, the organizing committee was trying to act in a more economical and environmentally friendly way. For instance, in an effort to reduce emissions and lessen traffic congestion, six to seven routes of shuttle services have been arranged for all participants to travel between conference venues and hotels. Conference staff are also required to advise delegates against using paper, as official documents are being circulated electronically. 
(Reporting from Rio de Janeiro)