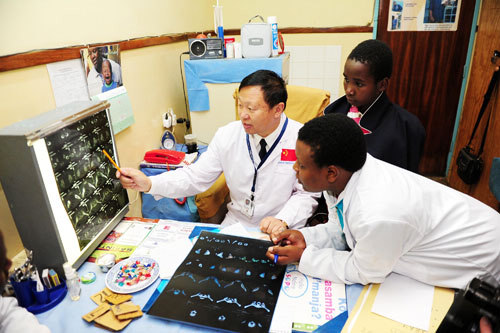 MEDICAL ASSISTANCE: Chinese doctor Wang Liqun works at a hospital in Lilongwe, capital of Malawi, on April 3 (DING HAITAO)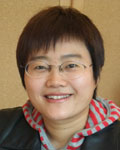 The intensity of China's engagement with Africa over the past decade has attracted global attention. However, there is a big gap between China and the West over perceptions of the rapidly growing Sino-African relations. Chinese academics say the decade-long rapid growth of Sino-African relations is the natural outcome of a half century of friendship and cooperation between China and African countries. The relations are based on mutual respect, sincere friendship, equality and mutual benefit.
But many in the Western media, think tanks and even some politicians portray China's Africa policy as neocolonialism. They claim China takes over the African market with cheap goods, competes for natural resources such as oil, and exports China's development mode. They also say China's no-strings aid to so-called "rogue states" hinders democratic progress in those countries. Given Western dominance in international public opinion, this misreading has taken a toll on the sound growth of Sino-African relations.
In the last decade, shored up by the establishment of the Forum on China-Africa Cooperation (FOCAC), cooperation between China and Africa in trade, investment, infrastructure construction and development aid have made huge progress. China is the largest trade partner of Africa. Trade volume soared from $10 billion in 2000 to more than $160 billion in 2011. In addition, Africa has become China's second largest project contracting market and fourth largest overseas investment destination.
The West began to explore and establish colonies in Africa in the 15th century. By contrast, though China and Africa came into contact with each other as early as the second century B.C., substantial Sino-African relations did not start until 1949 when the People's Republic of China was founded. In the past 60 years, especially since the establishment of the FOCAC in 2000, Sino-African economic relations have grown by leaps and bounds, making some Western countries uncomfortable. In the eyes of Western media and political figures clinging to outdated Cold War perspectives, the booming Sino-African relationship has encroached upon the West's sphere of influence.
Those Western politicians, media and NGOs that have such feelings have put the Chinese Government and Chinese enterprises doing business in Africa in the spotlight. They tend to exaggerate China's flaws in Africa. A few negative cases were overstated as universal conduct. Normal resources development on the continent was described as "resource grabbing." Successful bids by Chinese companies were smeared as "under-the-counter" or "government-backed" dealings despite the fact the Chinese companies outbid foreign competitors with their high efficiency and low cost. Moreover, China's strict policy of non-interference in the domestic affairs of other countries has also been a target of the West's attack. Some Western countries claim that the Chinese policy gives disguised support for "rogue states" or "failed states." They say it isn't conducive to democracy or to the anti-authoritarian and anti-corruption campaigns the West promotes in Africa.
Those accusations sound reasonable at first, but they fail to hold up under careful analysis. First of all, the development of a country relies on its own effort. What's more, democracy and good governance rely on a certain development level. They are associated with the improvement of education as well as legal and democratic awareness. Western countries have worked for hundreds of years to improve their democratic systems. Therefore, it is unrealistic to achieve democracy in African countries in a short time by shouting slogans.