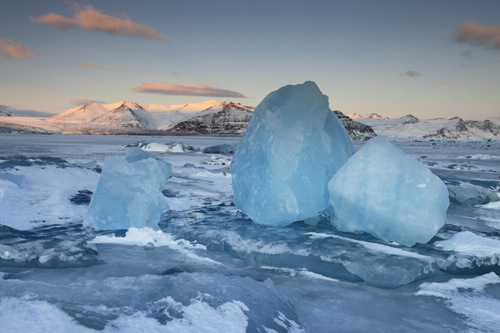 SMELTING: Ice floats in the Jokulsarlon Lagoon in southeast Iceland. A large ice cap fractured last winter due to warm temperatures, depositing mighty blocks of ice into the water (CFP)
China's average temperature in the past winter hit its lowest in 27 years, about 1 degree Celsius lower than normal. Other countries in Asia and Europe were also hit by cold temperatures and snowstorms. Many people wondered if the climate had stopped warming and started going cold.
But experts believe the long-term trend of global warming will continue, in spite of the cold winter. China will take the initiative in saving energy, reducing greenhouse gas emissions and switching to an environmentally friendly model of growth because this is the only way for the country to realize sustainable economic and social development.
A single cold winter does not change the trend of global warming. Statistics from China and other countries throughout the world prove that in the past century the average land surface temperature has increased.
"There is no doubt that global temperatures have been on the rise in the past century, and global warming hasn't stopped yet. It's too early to draw a conclusion that global warming triggered by human activities has stopped or the world is going to turn cold," said Luo Yong, Deputy Director of the National Climate Center of China.
Unlike global climate change, which has existed for decades, cold spells in an individual winter belong to a phenomenon related to weather changes. "Generally speaking, there are fewer cold days than in previous years as a result of global warming. But it is normal that cold spells can strike some places for some time," Luo said.
Although cold spells were extremely active in Europe and Northeast Asia in the past winter, many places elsewhere, like North America, experienced high temperatures. December last year was the 12th warmest December on record, and January this year was the 19th warmest January. "So it is unconvincing to conclude that global warming has ceased just because temperatures in certain places in the past winter were lower," said Luo.
The global average surface temperature has risen 0.74 degrees Celsius in the past century. Temperature increases have accelerated since the 1970s. 2010 was the warmest year in the past 100 years, and 2001-10 was the warmest decade in the past century.
2011 was the ninth warmest year since 1880, when people started to take weather records, according to the latest statement of the U.S. National Aeronautics and Space Administration. Nine of the 10 hottest years in the world's weather record were after 2000. Monitoring results from the U.S. National Oceanic and Atmospheric Administration (NOAA) also showed the same tendency. The NOAA announced that 2011 was the warmest La Nina year since 1951. La Nina, characterized by unusually cold ocean temperatures in the eastern equatorial Pacific, often contributes to temperature drops around the globe.