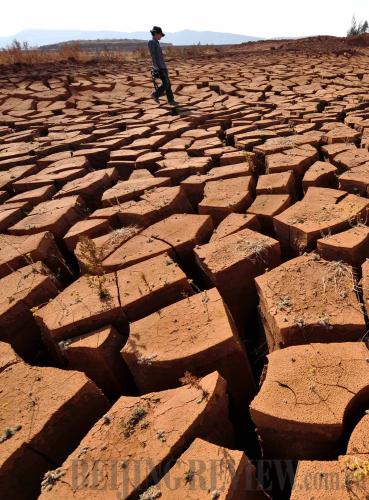 PARCHED LAND: A dried-up pond in Malong County, Yunnan Province, on February 24, where a severe drought has lingered for three consecutive years (LIN YIGUANG)
Recent headlines concerning water have raised concern about an impending water shortage in China. A lingering drought in southwest China's Yunnan Province has left 3.19 million people and 1.58 million livestock short of drinking water, the provincial government said on February 27. In January, a cadmium spill from a mining firm in south China's Guangxi Zhuang Autonomous Region contaminated a 300-km section of the Liujiang River, killed fish and prompted panic buying of bottled water in downstream cities. Earlier in February, a phenol spill allegedly by a South Korean cargo ship contaminated the drinking water source of Zhenjiang, a city downstream on the Yangtze River, China's longest waterway.
While these maybe a series of isolated incidents, analysis of the country's overall water situation makes for even grimmer reading. According to the Ministry of Water Resources, the water availability per person per year in China is only 2,100 cubic meters, or about 28 percent of the world's average level.
With a population of 1.3 billion people, China now consumes more than 600 billion cubic meters of water a year, or about three quarters of its exploitable water resources.
"About two thirds of Chinese cities are already classified as 'water-needy,' while nearly 300 million rural residents lack access to safe drinking water, leading to a nationwide water shortage of over 50 billion cubic meters on average every year," said Hu Siyi, Vice Minister of Water Resources, at a press conference on February 16.
According to 2010 figures released by the Ministry of Water Resources, 40 percent of Chinese rivers were considered seriously polluted and unfit for use as sources of drinking water.
Moreover, about one fifth of rivers in China are so polluted that their water quality is rated as "worse than Category V." China measures water quality from Category I: river sources and water in nature reserves, to Category V: water suitable for agricultural irrigation and landscapes. Water rated "worse than Category V" is too toxic even to touch. Meanwhile, as water is essential for all living organisms, the overexploitation of water resources in all of China's major river basins has severely damaged the country's natural environment.
Overexploitation of groundwater can also cause land subsidence, a threat to public safety. Between 75 and 80 percent of the water supply in the North China Plain comes from groundwater. Wu Aimin, a researcher with the China Geological Environmental Monitoring Institute, said that it will take the natural circulation system more than 10,000 years to replenish the 100 billion cubic meters of groundwater that has been taken for the region.
Adding to the country's water safety pressure are ambitious development plans announced by local governments this year, which experts say will inevitably increase water demand for industrial and residential use.
To address the problem, the State Council, China's cabinet, unveiled a guideline on February 16 to regulate the use of water under "the strictest criteria," capping the maximum volume of water use at 700 billion cubic meters by the end of 2030. Other regulatory targets include raising China's water use efficiency to levels seen in advanced countries by 2030 and strictly controlling the total amount of pollutants discharged into rivers and lakes.
According to the guideline, China will work to keep its total volume of water use below 670 billion cubic meters in 2020.
Also, the government will tighten its supervision of ground water extraction and further protect sources of drinking water, and restore the aquatic ecological system by introducing water-use licenses and other measures.
The Central Government has planned an investment of 4 trillion yuan ($634.9 billion) in water resource conservation projects over the next 10 years, of which 1.8 trillion yuan ($285.7 billion) will be spent by the end of 2015.
"Unless we take decisive and compulsory measures to stop overexploitation, the water shortage will get worse in the future," Hu said.