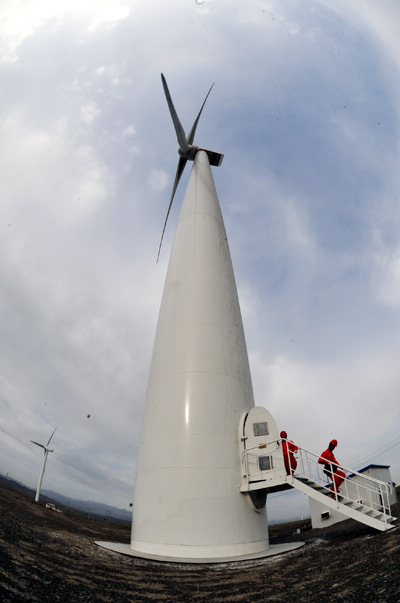 RIDING THE WIND: Two technicians of Xinjiang-based Goldwind Science and Technology Co. Ltd., a leading Chinese wind turbine maker, test their products in Urumqi, northwest China's Xinjiang Uygur Autonomous Region, on May 12, 2011 (ZHAO GE)
In its latest trade dispute with China, the United States seems to be following Don Quixote's lead: viciously attacking windmills that it perceives to be a giant threat to itself.
On January 18, the U.S. Department of Commerce officially announced it would launch an anti-dumping and anti-subsidy investigation on wind tower equipment from China. The U.S. Department of Commerce will make the preliminary subsidy and dumping decisions in March and June this year.
Before that, the Wind Tower Trade Coalition, a U.S. coalition of producers of wind towers, filed a complaint with the Department of Commerce and International Trade Commission last December, claiming that Chinese and Vietnamese wind tower producers were dumping products in the U.S. market. The petition aims at raising import tariffs on wind towers from China to more than 64 percent.
Liu Pengxu, a lawyer with the China Chamber of Commerce for Import and Export of Machinery and Electronic Products, said he does not believe China's wind power equipment enterprises have caused losses to U.S. industries.
The wind towers, which are used to support the blades and housing for the wind turbines, are made of steel pieces assembled on site. Currently, the wind tower accounts for 20 percent of the cost of the wind turbine generator system.
"China's expanded export to the United States is the result of its advantages in international competition, rather than dumping or governmental subsidies," said a report released by the China Chamber of Commerce for Import and Export of Machinery and Electronic Products on January 20.
The reasonable price of China's wind power equipment can help reduce the investment needed in wind power and effectively promote the use of green energy in the United States, the report said.
In addition to price advantages, Chinese products boast strong advantages in quality and timely delivery, said Wang Debao, Deputy Director of Chengxi Shipyard Co. Ltd.'s Steel Construction Department, whose wind tower business accounts for almost 10 percent of its annual revenue, which exceeded $1 billion last year.
Meanwhile, supporting the clean energy industry is a normal international practice. China's support for its clean energy industry does not violate rules of the WTO. Therefore, it is unreasonable that the United States launched the investigation using this excuse, said Liu.
This was the second anti-dumping and anti-subsidy investigation met by China's clean energy products in the United States after the investigation on photovoltaic products from China last year.
In 2010, China overtook the United States as the country with the most installed wind energy capacity by adding 16 million kw over the year. Currently, there are now four Chinese wind turbine manufacturers among the global top 10, up from zero just five years ago.
With the U.S. presidential election looming, candidates need to find a scapegoat for the country's failed new energy ambitions. China appears to be the perfect target, said a report of the Beijing-based International Business Daily.
President Obama, a Democrat, is seeking re-election in November. Obama's energy policy—boosting renewables and reducing dependence on imported oil—will be a selling point in the race.
But the frustrating fact is that a $535-million federal loan guarantee was awarded to solar company Solyndra, which later went bankrupt. Solyndra-gate has fuelled criticism of Obama and even of other financial support for renewable energy.
In a bid to alleviate pressure, the Obama administration choose to blame China, said the International Business Daily.
"The act will not only hamper bilateral cooperation in the field of new energy and harm the interests of U.S. industries, but also go against global efforts to tackle the challenges of climate change and energy security," said China's Ministry of Commerce.