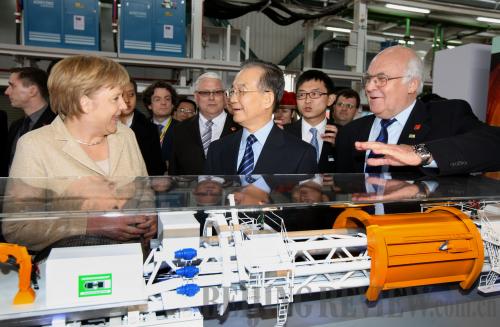 COLLABORATION: Chinese Premier Wen Jiabao and German Chancellor Angela Merkel visit German tunneling equipment maker Herrenknecht's plant in Guangzhou on February 3 (YAO DAWEI)
No one will doubt the purpose of German Chancellor Angela Merkel's recent official visit to China. Under the backdrop of the severe European debt crisis, China could have a major impact on the troubled European economy.
Chinese analysts said Merkel's visit, from February 2-4, aimed to seek long-term cooperation with China. China reacted positively to Europe's concern on its debt issue. However, besides lending money, increasing mutual investment and trade between China and Europe should be more effective approaches to addressing the debt crisis. China's response is also a positive signal to a stable and better Sino-German relationship, they added.
At a joint media briefing after talks with the visiting German chancellor, Chinese Premier Wen Jiabao said China is considering involving itself more deeply in efforts to address Europe's debt crisis through channels like the European Financial Stability Facility and the European Stability Mechanism. But Europeans' own efforts must play a vital and fundamental role in resolving the crisis.
"This is by far the clearest attitude of China toward Europe's debt issue. China is willing to help but will not take the lead," said Feng Zhongping, Director of the Institute of European Studies at the China Institutes of Contemporary International Relations (CICIR).
Soon after Wen's words were reported, the euro rose about half a percent against the U.S. dollar.
The current European sovereign debt crisis could easily remind people of the Asian financial crisis in the late 1990s. At that time, rich European countries did not show their mercy and generosity to their poor Asian friends. Should China, a still developing country, "rescue" rich, troubled Europe?
China doesn't plan to stand by with folded arms. As an economic engine, Germany is not an ordinary country in Europe. Sino-German relations therefore have iconic significance for Sino-EU relations. Before the visit, it was widely reported in the Western media that Merkel's visit to Beijing was for the task of seeking help from China in addressing the European debt crisis. Thus the whole EU attached great importance to the trip.
When meeting with Merkel, Premier Wen said it is urgent and important to solve the European debt crisis and China attaches great importance to the issue from a strategic perspective as the global economic situation remains grim.
With about $3.18 trillion in foreign exchange reserves, China is one of the major countries that could lend a hand to the troubled euro zone.
"Merkel's visit to China has various considerations. Germany doesn't emphasize short-term capital flow in addressing the debt crisis, but has a long-term view. In the short term, China has large foreign exchange reserves; in the medium term, China has a huge market; and in the long term, China, with a relatively rapid development speed, is surely a reliable economic and trade partner for Germany and Europe," said Cui Hongjian, a research fellow with the China Institute of International Studies (CIIS).
"China's response to the EU's concern on the debt crisis is a positive signal for Sino-German relations," said Li Weiwei, Deputy Director of the Department for EU Studies at the CIIS. "The German chancellor stressed long-term cooperation during her recent trip to China. For example, the German side advocated cooperation on social security with China. I think this aims at a guaranteed Chinese market with huge purchasing power."
Economic and trade relations lay the foundation of the Sino-German relationship. China is the most important trade partner and export destination for Germany. By the end of 2011, despite the severe euro-zone crisis, bilateral trade volume had reached $169 billion, an 18.9-percent increase from the previous year.
Germany accounts for about one third of China's total trade with the EU, amounting to the trade volume of China with Britain, France and Italy combined. Leaders of the two countries agreed last year to work together to raise bilateral trade volume to $280 billion by 2015.