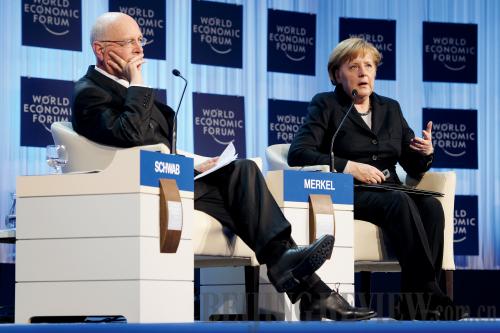 OPENING REMARKS: German Chancellor Angela Merkel (right) speaks next to World Economic Forum (WEF) founder and Executive Chairman Klaus Schwab during the WEF opening session in Davos on January 25 (IC)
While Europe buckles under a mountain of debt, the U.S. economy has been struggling with a sluggish recovery, and Japan is still reeling from the impact of the devastating earthquake and tsunami, many attendees at the annual World Economic Forum held in Davos, Switzerland on January 25-29 looked to China to prop up the global economy.
Despite a modest slowdown in growth, the Chinese economy remains a calm port amid the world financial storm.
Speaking at a public session, Singaporean Prime Minister Lee Hsien Loong said he was fundamentally optimistic about the Chinese economy.
Lee pointed out China was making rapid economic progress and undergoing quick urbanization, which created enormous demand for facilities such as roads, hospitals, schools and houses.
Li Daokui, adviser to the Monetary Policy Committee of the People's Bank of China and Director of the Center for China in the World Economy at Tsinghua University, expects the Chinese economy to grow around 8.5 percent this year, down from 9.2 percent in 2011.
"Anyone who has any understanding of China will agree that we will be able to achieve a soft landing, supported by buoyant domestic demand," said Li, on the sidelines of the forum.
Inflation, which has nagged China for much of the past year, is also likely to ease to about 3 percent from 5.4 percent in 2011, he said.
Zhu Min, Deputy Managing Director at the IMF, agreed. "The growth moderation is acceptable and it is actually good news for China as the country tries to rebalance its economy away from over-dependence on exports," he said.
But the economy is not without risks. China is still far too export-dependent and that makes it very vulnerable, said Nariman Behravesh, chief economist of IHS Global Insight. The second worry is the housing situation. It is tricky because there are very few countries that were able to deflate a housing bubble without creating some other damage.
Zhang Weiying, an economics professor with Peking University, said two major factors may drag down China's growth over the long term.
"Due to an aging population, gains from demographic dividends are shrinking, and the side effects include labor shortages and stubborn labor cost inflation," he said. "Moreover, policymakers still have a lot to do to foster the private economy and encourage innovation and entrepreneurship."
Lee suggested that China should continue its efforts to improve the social safety net, properly distribute and utilize profits generated by state-owned enterprises, as well as balance investment and consumption in order to ensure future growth.
As Europe sunk into an intractable debt quagmire, many also expected China to come to its aid.
Li said China has never changed its policy to participate in the financial rescue through the IMF, but insisted that there need to be conditions. "The first is that the EU must devise its own effective rescue package, and the second is that the efforts are multilateral, not just bilateral," he said.
"Both sides are in the same boat," said Finnish Prime Minister Jyrki Tapani Katainen. "China will suffer from the worsening economic situation in Europe, and vice versa, so it would be good for China to use part of its foreign reserves surplus through the IMF to finance countries in trouble."