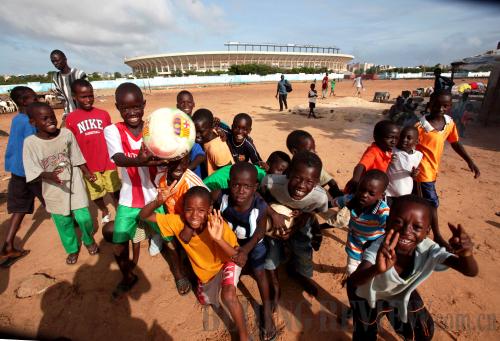 FIELD OF DREAMS: Kids play football in front of a China-sponsored stadium in Dakar, Senegal, on August 21 (LIU YU)
Driving from the Johannesburg International Airport in South Africa to the city's downtown area, you can find almost every world-famous company. In Dar es Salaam, Tanzania, huge billboards of foreign companies dot the landscape of the coastal city.
With a population of 900 million and untouched natural resources, Africa has enormous economic potential. Like many other countries, China has worked to promote business connections in Africa. Chinese companies have provided a much-needed economic boost and employment opportunities for many African countries.
In May, Zhang Qiyin, General Manager of the Johannesburg-based South Africa Jin Chuan Resources Ltd., a branch of the Jinchuan Group Ltd. (JNMC), added a new title to his business card: executive director of the Wesizwe Platinum Ltd.
JNMC is a large nonferrous metallurgical and chemical engineering enterprise based in China's Gansu Province. It produces nickel, copper, cobalt, rare and precious metals, chemical products and processed nonferrous metal products. Its output of nickel and platinum group metals accounts for more than 90 percent of the total in China.
JNMC owns nickel reserves of 5.5 million tons, the third biggest in the world. It also has the second biggest copper reserves in China with 3.43 million tons. In recent years, JNMC has conducted several successful purchases in Australia and Africa, including the one with South African mining company Wesizwe.
In May 2010, JNMC, the China-Africa Development Fund and Wesizwe signed an agreement, in which JNMC would buy 45 percent of Wesizwe's total shares for $227 million. The China Development Bank also promised to invest $650 million in Wesizwe for mineral product exploration. One year later, the purchase deal was completed and JNMC became the biggest shareholder of Wesizwe.
During the process of purchasing Wesizwe, JNMC discovered Africa's giant development potential, and began to target Africa as its key development area. Since the beginning of 2011, JNMC and Brazilian mineral giant Vale S.A. have been wrestling over South Africa's copper-cobalt producer Metorex Ltd. On August 2, Metorex formally recommended JNMC's $1.36-billion offer at its shareholders' conference. Zhang said once the Metorex's shareholders approved the purchase agreement, government agencies could finish approval procedures within the following three months.