Chile was the first South American country to establish diplomatic relations with China. It was also the first Latin American country to support China's entry into the WTO, recognize China's full market economy status and ink a free trade agreement with China.
Currently, China and Chile are making efforts to strengthen their bilateral economic and trade relationship. During his recent visit to China, Juan Andrés Fontaine Talavera, Chilean Minister of Economy, Development and Tourism, sat down with Beijing Review reporter Yu Yan to share his views on this issue. Edited excerpts follow: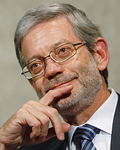 Beijing Review: Chinese Vice President Xi Jinping visited Chile in June. What impact has his visit had on the two countries' economic and trade relationship?
Juan Andrés Fontaine Talavera: We were very happy to meet the vice president. He left a good impression on Chile. This visit was an important way of allowing the two countries to grow closer together.
Chile and China have a very strong trade relationship, largely due to the help of the free trade agreement we signed in 2006. China is currently Chile's No.1 trading partner, and Chile is China's No.2 trading partner in Latin America.
Now it's time for us to go further and expand our cooperation to other fields, including investment, and scientific and technological exchanges. For video clip please click here>>
During Xi's visit, the two countries signed a series of cooperation agreements for agriculture, mining, banking, telecommunications and other areas. How do the two countries complement each other in these fields?
Chile exports a lot of copper and other raw materials to China. We think, with the increase of consumption, China is going to be increasingly interested in buying our food products. We have already started to export fresh fruit to China, including apples and grapes. We also export fish. And Chilean wine is becoming popular among Chinese people because of its good quality.
These show we will move along the direction of expanding our exports to China.
We import consumer appliances from China, such as cars and machinery. China is producing goods with increasing scientific and technological sophistication. In the future, we will import more of these goods from China, especially from the IT and bio-technology industries.
In 2006, the China-Chile Free Trade Agreement (FTA) came into effect followed by the Supplementary Agreement on Trade in Services of the FTA in 2010. What benefits has the development of free trade brought to the two countries?
We are very happy with the way that the trade relationship between Chile and China has developed. Trade between the two countries has been strong and has grown quickly. And it has expanded to cover other goods and services.
We think now it is time to further strengthen investment in each other. Chinese companies can invest in Chile and Chilean companies can invest in China.
Which areas in your country are suitable for Chinese investment?
Chile aims to achieve a sustained 6-percent growth in GDP per year from now to the end of this decade. Chile will be the first Latin American country to achieve a per-capita income equivalent to that of a developed nation. In order to reach this goal, we need to increase investment. That's why Chilean President Sebastian Pinera said he would inject $120 billion to boost the Chilean economy, and welcomes Chinese companies to invest in Chile.
There are many areas suitable for Chinese investment, not only in the development of mines, but also in providing Chilean mines with raw materials, machinery, technology and services.
We also have opportunities in agriculture, including wine and fruit. Chile is now the world's top exporter of fresh fruit. We are able to provide good-quality food at low prices. We are starting to export pork and milk products to China.