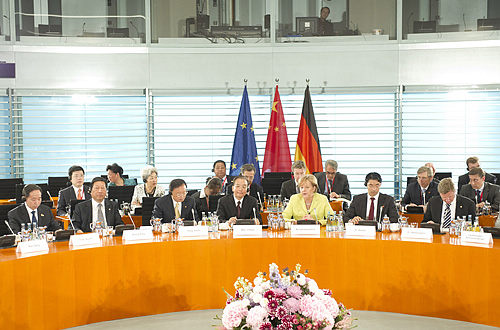 LEADERS MEET: Chinese Premier Wen Jiabao and German Chancellor Angela Merkel co-chair the first round of the Sino-German inter-governmental consultation in Berlin on June 28 (HUANG JINGWEN)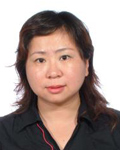 During his recent visit to Germany, Chinese Premier Wen Jiabao, together with German Chancellor Angela Merkel, inaugurated an inter-governmental consultation mechanism to enhance cooperation between the two countries. The two co-chaired the first round of consultation in Berlin on June 28. This is a milestone in Sino-German relations since Germany is the first country to establish this kind of mechanism with China.
More than 20 Chinese and German ministers in charge of issues ranging from foreign affairs to economy, finance, science, technology, agriculture, environmental protection and education took part.
The dialogue mechanism not only shows Sino-German relations have reached a higher level, but also shows the two countries are determined to promote bilateral cooperation in an all-around way.
Since the two countries established diplomatic relations in 1972, both have undergone significant social and economic changes. Along with these changes, their relations experienced ups and downs. But cooperation in various fields has become steadier.
In 2010, the two countries issued a joint communiqué on promoting their strategic partnership. The communiqué called for strengthened Sino-German cooperation in political, economic, social and cultural fields. China is Germany's most important partner in Asia, while Germany is China's most important partner in Europe. Meanwhile, their relations are a major pillar for a stable China-EU relationship.
In the context of globalization, the development of Sino-German relations has mainly been driven by two factors: economic cooperation and collaboration in global affairs.
Economic and trade relations are the cornerstone of Sino-German relations. Germany is China's biggest European trade partner. It is also China's biggest foreign investor and technology supplier in Europe. The two countries' joint efforts to deal with the global financial crisis have further boosted their economic and trade relations.
In 2010, bilateral trade hit $142.4 billion, up 34.8 percent compared to the previous year and accounting for nearly 30 percent of the total China-EU trade. By the end of 2010, German investment in China had totaled $17.2 billion, and China had signed technology import contracts with Germany worth $51.4 billion.
Currently, aspirations for economic and trade cooperation between China and Germany are stronger than ever. China needs German technology as it pursues economic transition, while Germany needs the Chinese market for its economic growth.
What's more, the two share common interests on many global issues. As the world's major trading nations, China and Germany took the lead out of the financial crisis. They shared responsibilities and cooperated within the framework of the Group of 20. Both pledged to draw lessons from the crisis, strengthen the role of international financial institutions and reform international financial supervision.
In addition, China and Germany work together on other global issues, including environmental protection, climate change, energy policy and nuclear non-proliferation.
The two countries often share the same or similar opinions on regional and international issues. For instance, both advocate solving the crisis in Libya through political means and dialogues rather than military actions.
Generally, Sino-German relations are moving in the direction of building trust and promoting cooperation—but there are obstacles and problems as well.
Because of their different historical and cultural traditions and political systems, China and Germany disagree on a number of issues. German foreign policies are not only interest-oriented, but also value-oriented. As a result, Germany often criticizes China's human rights record and legal system.
China welcomes exchanges based on mutual understanding and respect. But it strongly objects malicious attacks and accusations ignoring China's national conditions.
In order to reduce investment risks, German companies are scattering their economic activities to multiple locations in Asia. Small and medium-sized enterprises are the driving force behind German hi-tech innovation. However, for fear of intellectual property rights violations in China, these companies are cautious when investing in China.
China needs to address their concerns in a bid to attract more German companies, especially hi-tech companies.
In recent years, German media have made a negative impact on Sino-German relations. Ideological differences served as an important reason for this. A more important reason, however, was their maladjustment to China's rapid development. They regarded the rise of China as a threat, rather than an opportunity, for Germany as well as the whole Europe.
In light of this, enhancing mutual understanding between the two countries, especially between their people, is essential for a sustained Sino-German relationship. Therefore, it is important to step up cooperation on science, technology, culture and education. Exchanges in these areas will help China and Germany bridge differences and bolster mutual confidence.
The author is an associate research fellow with the Institute of European Studies at the Chinese Academy of Social Sciences