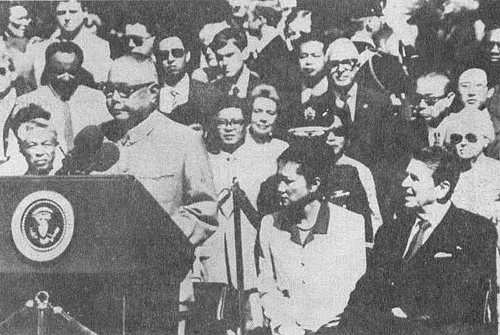 President Li Xiannian addressing the welcoming ceremony held in his honour by President Reagan (XINHUA)
With some effort, but much warmth, the convalescing President Ronald Reagan bid a welcome to President Li Xiannian at a July 23 ceremony on the South Lawn of the White House.
"On behalf of the people of the United States," said Reagan, looking fit but slightly pale 10 days after undergoing cancer surgery. "I say huan ying, welcome."
Li replied that he was "touched" by Reagan's presence. "I am very happy to see you are recovering so fast," he added.
Li arrived in Washington on a state visit the day before, following a successful tour of Canada. At Andrews Air Force Base in Maryland, he and his wife, Madame Lin Jiamei, were greeted by Secretary of State George Shultz and Mrs. Shultz, together with a crowd of well-wishers.
As the first Chinese head of state to visit the United States, Li declared at the White House that the purpose of his visit was "to deepen mutual understanding, enhance our bilateral relations, increase the friendship between our two peoples, and safeguard world peace."
Reagan, too, sounded a statesmanlike note: "We Americans highly value the ties we have built with the people of China in these last 13 years." He said, "We wish for the people of China what we wish for ourselves - to live in peace and to enjoy prosperity. By working together the people of both our countries can achieve this noble goal."
After the ceremony, the two leaders retired to the Blue Room of the White House for a 25-minute meeting.
The remaining two and a half days of Li's stay in Washington were a relentlessly busy schedule of meetings, dinners, lunches and receptions.
His itinerary then took him to Chicago, Los Angeles and Hawaii. In all these places, the Chinese president met local officials and other community leaders. He also honoured the opening of the new Chinese Consulate General in Chicago, toured Disneyland and Hollywood in Los Angeles, and visited Pearl Harbour and saw the school Dr. Sun Yat-sen, the great Chinese revolutionary, attended in Honolulu.
In California, Vice Premier Li Peng had a separate schedule which included visits to several factories and research institutions in the famous Silicon Valley. He rejoined Chinese delegation in Los Angeles before they flew on to Honolulu to wind up their U.S. visit.
Bilateral relations
Sino-American relations dominated many speeches at public and private meetings between the hosts and guests during the tour. Much progress has been made since the two countries established diplomatic ties in 1979, despite frequent frictions. Two-way trade topped $6 billion in 1984 (compared with $96 million in 1972), making the United States China's third largest trading partner after Japan and Hongkong. The U.S. is now the biggest overseas investor in China. By the end of last year, direct U.S. investment in China to-talled more than $700 million. About 60 Sino-U.S. joint ventures have been launched, and more are under consideration. Over 100 scientific and technologicai cooperation projects have also been mandated. More than 10,000 Chinese scholars and students are teaching or studying in the U.S., and some 3,500 American students have come to China since 1979.
For all these achievements, however, many improvements remain to be made. Although Sino-U.S. trade has increased by about 40 percent annually over the past six years, it still makes up less than 1 percent of the total U.S. foreign trade for the period. Restrictive or protectionist U.S. trade policies are a major impediment. "Country of origin" regulations imposed on textile imports last year, for instance, caused a 25-percent fall in Chinese textile exports to the United States in the first four months of 1985.
Also, though the Reagan administration has eased some restrictions on technology transfers to China since June 1983, China remains subject to national security restrictions and COCOM examinations. (COCOM, the Co-ordinating Committee for Export Control, is a Paris-based agency which oversees East-West trade.)
During his White House talks with Reagan, Li expressed grave concern over the rising trend toward trade protectionism in the United States. More and more restrictions were being placed on China's main export goods, he said, noting that if the trend continues for long, it will inevitably increase China's trade imbalance with the United States - already running at $14 billion for 1972-84 - and affect bilateral trade. On technology transfers, he said he recognized that the U.S. has made efforts in recent years to ease some restrictions, but added that "there has been no substantial progress on the issue."
Far more serious is the Taiwan issue, which, Li warned Reagan, remains the major obstacle to the substantive improvement of Sino-U.S. relations. A settlement in accordance with the "one country, two systems" concept put forward by China for the island's reunification with the mainland would be conducive to peace in Asia and the world, and would also benefit relations between Washington and Beijing, he added.
But when asked during a subsequent television interview whether China would ever use force to settle the Taiwan question, he said: "We have always stood for peaceful reunification, but never have we promised not to use non-peaceful means to resolve the issue."
Overall, Li added, Sino-U.S. relations have been fairly stable in recent years, and he hoped to see more substantial progress during Reagan's second term of office.
International issues
While international issues of common concern were only touched on by Li and Reagan in their meeting, they were dealt with "in detail" during his talks with Secretary of State George Shultz.
There, the Chinese president said he hoped that the U.S.-Soviet arms control talks in Geneva and the coming U.S.-Soviet summit meeting could produce results favourable to world peace. On the Middle East issue, he lauded emerging trends favourable to a settlement of the regional problem. He said the Reagan administration should take action to help resolve the Middle East question fairly and reasonably, and should not miss the opportunity. On Kampuchea, he said China will continue to support the tripartite resistance coalition led by Prince Norodom Sihanouk in its fight against Vietnamese aggression, and hopes to see its unity strengthened. China will not help any single faction take power in Phnom Penh in the future, nor will it support moves to exclude any one faction, Li said.
Li also told U.S. reporters that China and the Soviet Union have improved their relations "a little." But, he added, there can be no normalization unless the "three obstacles" - the Soviet occupation of Afghanistan, the presence of large number of Soviet troops along the Chinese border, and Moscow's support for the Vietnamese occupation of Kampuchea - are removed. Even if these blocks were taken away, there would be no return to the Sino-Soviet alliance of the 1950s. China's independent foreign policy, he said, means that China will not ally itself with this or that big power. The United States need not get nervous about an improved relationship between Moscow and Beijing, he said. Likewise, the Soviet Union need not feel uneasy about an improved Sino-U.S. relationship. China will be pleased if the Soviet-U.S. Geneva arms control talks are a success and the meeting between Reagan and Soviet leader Mikhail Gorbachev scheduled for November this year goes well, thus resulting in an improvement in their relations, he said.
Nuclear cooperation pact
A highlight of Li's U.S. visit was the signing of a Sino-U.S. agreement on cooperation in peaceful use of nuclear power. Acclaimed by the American press as a "historic accord," the agreement was in doubt almost until the signing ceremony took place on the afternoon of July 23.
"We are pleased that all difficulties seemed to have been resolved, so that the agreement can go ahead," said Carl Walfke, director of the Atomic Industrial Forum, in a telephone interview. "We have a number of companies in the United States which are very interested in the Chinese programme and which are ready and able and willing to make a good contribution there. It might turn out to be a major area in Chinese-American co-operation."
A spokesman for the Westinghouse Corp. also applauded the pact. "The potential benefits to the U.S. in both jobs and improving our trade balance are large," he said. "A plant order will mean as many as 4,000-5,000 jobs over a 5 to 6-year period, and that will be a billion-dollar contribution to relieving the (U.S.) trade balance."
Roger Sullivan, executive vice-president of the U.S.-China Trade Council, added: "The agreement has very important commercial value. With this agreement, U.S. companies can compete with the French, Japanese and German in selling nuclear equipment to China."
No less important are the three other agreements signed at the same time. They are a new accord on cultural exchanges, a protocol on co-operation in educational exchanges, and a Sino-U.S. fishery agreement.
At the signing ceremony, Vice President George Bush described the pacts as an "appropriate symbol of the success" of Li's visit. They "mark the beginning of a new stage in the economic, technological, educational and cultural co-operation between our two countries," noted Li Peng.