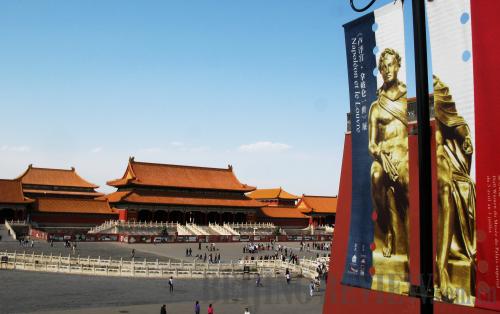 ESSENCE OF CULTURES: The Louvre Museum Napoleon I Exhibition is held in the Palace Museum in Beijing in 2008 (CFP)
The antiquities collected in the Palace Museum in Beijing will be exhibited in the Louvre Museum next year. This was part of the content of a five-year cooperation contract signed between the two museums at the beginning of November in France.
Under the newly signed contract, the exhibition will be held from September to November next year, and about 140 national level treasures of China will be displayed. Centering on cultural relics from the period of Emperor Kangxi (1654-1722) and Emperor Qianlong (1711-1799), the exhibition will introduce life in the palace of China's Ming and Qing dynasties (1368-1911) to European visitors.
It will be the first time for collections of the Palace Museum to be exhibited in a major Western museum, and the preparation for the exhibition started more than two years ago, said Li Ji, Deputy Curator of the Palace Museum. "The Louvre Museum does not have a category for East Asian antiquities. But it has made an exception for the Palace Museum by holding a large exhibition next year," he said.
The Palace Museum receives 11 million tourists a year while the Louvre Museum receives 8 million. How to balance tourist flow and protecting cultural relics is an issue that worries both museums, said Li.
As symbols of two major cultures in the East and the West, the cooperation between the Palace Museum and the Louvre Museum has gone beyond cooperation between the two museums, but closer contact of the two nations, he said.
Both sides emphasize increasing cooperation on public shows and building visitor flow in the newly signed contract. In the next five years, the two repositories of national treasures will cooperate in joint exhibitions, protection of cultural antiquities and website construction, said the department in charge of foreign affairs of the Palace Museum.
Henri Loyette, Director of the Louvre Museum, said both museums used to be royal residences and have witnessed the history of the country. The two museums agreed to deepen the cooperation with a variety of ways of collaboration.
"We are really glad to see the cooperation between the two museums. They now sign a contract every five years and have a long-term cooperation pattern. Also on November 28, members of the Louvre Museum will come to China to have joint exhibition together with the China Central Academy of Fine Arts," said Sebastien Cavalier, Cultural Attache of the French Embassy in China.
It is not the first time that the two museums have cooperated. As the largest museums of the two nations, the Palace Museum and the Louvre Museum have worked with each other since early 2004. On October 10, 2005, a 2006-2010 cooperation contract was signed between the two sides, which carried the rider that if the cooperation went well, there would be a contract extension in 2010.