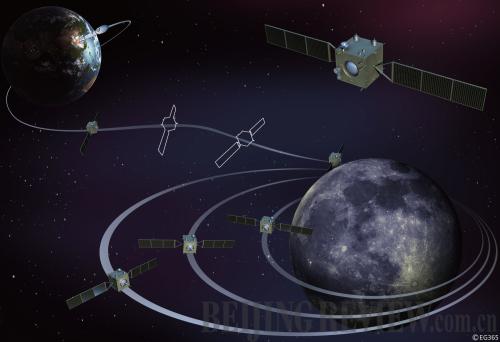 This graphic shows how China's second unmanned lunar probe, Chang'e 2, entered its working orbit after completing three brakings since its launch on October 1 Chang'e 2 blasts off on October 1 First braking on October 6 Second braking on October 8 Third braking on October 9 (CFP)
China's second unmanned lunar probe, Chang'e 2, successfully completed its third and final braking on October 9, allowing the satellite to enter a 100 km-high lunar orbit, according to the Beijing Aerospace Control Center (BACC).
The maneuver is significant not only because compared with its predecessor Chang'e 1, it is more challenging for Chang'e 2 to brake, as it must do so at a closer distance to the Moon and at a higher speed, but also because the success meant that the spacecraft would be able to begin scientific exploration activities soon.
Chang'e 2 blasted off on a Long March 3C carrier rocket from the Xichang Satellite Launch Center in southwest China's Sichuan Province on October 1.
Named after a mythical goddess who flew to the Moon, Chang'e 2 is the first unmanned spacecraft in China's lunar exploration program to be boosted from the launch site directly to the Earth-Moon transfer orbit, greatly reducing the journey time from that of Chang'e 1, China's first lunar orbiter.
China's lunar exploration program is divided into three stages: orbiting, landing and recovery. In Stage One, which started in 2004, China developed and launched its first lunar probe satellite to orbit the Moon. In Stage Two, which is around 2013, an unmanned vehicle will land on the Moon, explore and examine the topography, geological structure and material composition of the landing area and begin the Moon-based astronomical observation. The program is expected to enter Stage Three before 2020, featuring the landing of an automated lunar vehicle on the Moon to collect rock samples and bring them back for analysis and research.
After completing the three planned stages, the lunar exploration program could add missions of manned lunar landings, said Ouyang Ziyuan, a senior consultant to China's lunar exploration program.
Chang'e 1, launched on October 24, 2007, took about 13 days to travel to a lunar orbit after orbiting the Earth in a geosynchronous orbit and then transferred to the Earth-Moon orbit. Chang'e-2 traveled for about 112 hours, or less than five days, before entering the lunar orbit.
"This means that we could use less rocket propellant and leave more time for the satellite to conduct explorations on the Moon," said Wu Weiren, chief engineer of China's lunar exploration program. Wu also said challenges included less freedom for engineers to select the launch window and higher accuracy for the satellite to enter its orbit.
Produced as a backup satellite for Chang'e 1, Chang'e 2 was officially given the mission as an improved lunar probe after the successful mission of Chang'e 1.
To acquire more detailed Moon data, Chang'e 2 entered a lower lunar orbit about 100 km above the surface, compared with the 200-km altitude of Chang'e 1, according to the control center.
The satellite will eventually be maneuvered into an orbit just 15 km above the Moon. At that point, Chang'e 2 will take pictures of the Moon's Bay of Rainbows area, the proposed landing ground for Chang'e 3, with a resolution of less than 10 meters.
"We have come up with 108 emergency plans to ensure Chang'e 2's safe trip," said Ma Yongping, Deputy Director of the BACC. Ma said the satellite was merely 15 km from the Moon at the nearest point, and that a malfunction of the satellite's engine could cause the satellite to crash on the Moon's surface. Ma said scientists have conducted a major update to the control system to eliminate this possibility and ensure that if there is an issue with the satellite, the control center on the ground could take effective measures to solve the problem.
Ouyang penned an article for the latest issue of Chinese quarterly journal Spacecraft Engineering, which reveals Chang'e 2's eight technological improvements over Chang'e 1.