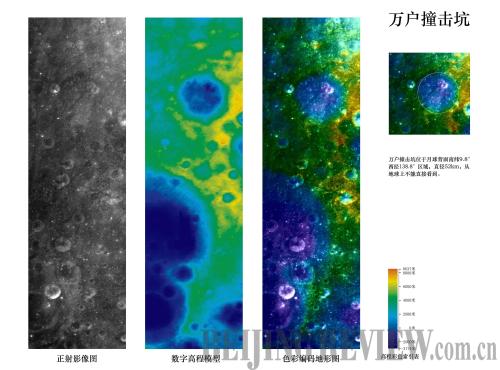 BACK OF THE MOON: The China National Space Administration releases the image of a section from the dark side of the Moon on December 11, 2007 (XINHUA)
China has finished the full map of the Moon based on data obtained by its lunar probe Chang'e 1, said Ouyang Ziyuan, chief scientist of China's lunar exploration program and an academician at the Chinese Academy of Sciences (CAS), at a press conference about the scientific achievements made by Chang'e 1 on July 16, 2010.
After orbiting the Moon 5,514 times, Chang'e 1, which was launched on October 24, 2007, precisely crashed onto the Moon's surface on March 1, 2009. The data and research achievements of Chang'e 1 have drawn the attention of scientists worldwide. "All the original scientific objectives of Chang'e 1 have been successfully completed," Ouyang said.
The first objective was to "take a photo" of the Moon—drawing a complete map of the entire Moon's surface, between 70 degrees north and south latitudes. As a matter of fact, many other countries and regions have already done this, but their maps still need to be perfected, said Ouyang.
"We try to make a better one, completing a three-dimensional image covering the whole surface of the Moon," he said.
On November 26, 2007, China National Space Administration released the first image of the Moon's surface sent back by Chang'e 1. It covered an area of almost 130,000 square km, 280 km in width and 460 km in length, accounting for 0.3 percent of the lunar surface. It shows a patch of moon surface on high land with impact craters of different sizes, forms, structures and their formation time.
"This is the first moon image we have taken. In the past, we have had to use images of other countries to do research on the Moon. Their images are fragments. We thus decided to make an image of the entire moon surface," said Wu Ji, Director of Center for Space Science and Applied Research of CAS.
The camera aboard Chang'e 1 is a high-performance Charge Coupled Device (CCD) stereo camera developed by the Xi'an Institute of Optics and Precision Mechanics of CAS. CCD is a semiconductor device with the same effect as photographic film that is able to transform optical images and picture elements into digital signals. The digital signals collected by Chang'e 1 are processed and stored, and then transmitted to the Earth through satellite platform transmitters and directional antennae, and are finally received by the headquarters of the National Astronomical Observatories of CAS for further processing.
Satellite image pickup is much different from normal photography. The CCD stereo camera shoots every target area from top and two sides. That is, there are three shots from three different dimensions, enabling a three-dimensional image. Image data collected by this CCD camera—in a world first—covered 100 percent of the lunar surface, creating a new "standard picture" of the Moon. With the CCD image data of the Moon, scientists can calculate topographic information to produce a full, three-dimensional digital lunar map of high resolution.
For greater accuracy, scientists have also used China's first space "laser altimeter" which emits a laser beam each and every second, and will continue to do so for a year. Each laser beam will cover an area about 100 meters in diameter of the lunar surface, and return in one thousandth of a second. The satellite then processes the data in real time and sends it to the Earth.
"With this device, we can measure precisely the height of each point," Ouyang said. "Linking them together, a more accurate three-dimensional map of the Moon will be created. It will also provide a scientific basis for China's planned soft landing program—enabling the best foothold."
Using the millions of pieces of data obtained by the laser altimeter, scientists have made a full moon Digital Elevation Model.
The moon map drawn by China is being printed, and will soon be available for sale. It is by far the most comprehensive, most accurate and clearest lunar map ever published.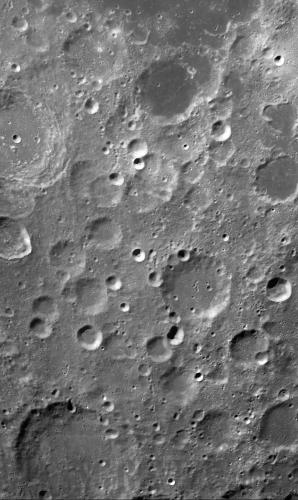 CLOSE-UP: China releases the first image of the Moon's surface on November 26, 2007 (XINHUA)
As the only natural satellite of the Earth, the Moon has preserved a great variety of records of geological activity from 4.6 billion years to 3.1 billion years ago on its surface, which will be of great significance for human beings in learning about the origins and evolution of the Earth, the solar system and even the whole universe.
The Moon is also rich in energy and mineral resources. After processing the data acquired by gamma-ray spectrometer equipment in Chang'e 1, scientists have mapped the distribution and extent of uranium, thorium and potassium on the Moon, as well as regional distribution and content of magnesium, aluminum, silicon, iron and titanium.