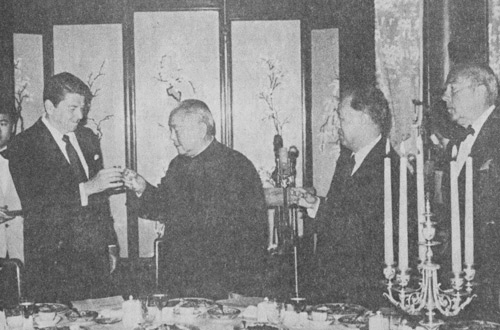 Presidents Li Xiannian and Ronald Reagan toasted Sino-U.S. friendship at a banquet Li and his wife gave for the Reagans. Premier Zhao Ziyang and Secretary of State George Shultz also attended
"President Reagan's current visit once again shows that frank and sincere dialogue is a bridge enabling China and the United States to explore ways of increasing mutual trust, to establish a stable and enduring relationship," Premier Zhao Ziyang said at the banquet hosted by U.S. President and Mrs. Reagan on April 28.
The Reagans concluded their 6-day visit to China and left for home on May 1, after meeting with several of China's top leaders and seeing some of the modern and ancient wonders of Chinese civilization.
During their visit, four agreements and protocols, including an agreement on the avoidance of double taxation, one on cultural exchanges, were signed, and an agreement on the peaceful use of nuclear energy was initialled.
Reagan is the first US president to visit China since the establishment of formal diplomatic relations in 1979. His trip marks another significant event in the development of Sino-US relations. Both countries have indicated the need to further develop these relations by strictly adhering to the principles agreed upon in the three Sino-US joint communiques. They believe there is great potential for more economic and technical co-operation, which both China and the United States should actively tap.
The Reagans received a warm welcome when they arrived in Beijing on April 26. President Li Xiannian presided over the ceremony, which included a 21-gun salute - the first since China recently decided to revive this practice.
The next morning First Lady Nancy Reagan went to see Zheng Zheng, the youngest panda at the Beijing Zoo. She presented a cheque for $13,000 and two jeeps to the China Wildlife Conservation Association, which is battling to save China's threatened giant pandas. The money is the first instalment of contributions from American children in response to Mrs. Reagan's call for "Pennies for Pandas."
Reagan addressed a meeting of more than 600 prominent Chinese economists, business people, scientists, technicians and educators on April 28 in Beijing. He also spoke to students and teachers at Fudan University in Shanghai on April 30.
Together the Reagans toured the section of the Great Wall just north of Beijing, and visited the hundreds of life-sized terracotta warriors and horses unearthed in Xian near the tomb of Qin Shi Huang, the emperor who first unified China.
At a state banquet in the Reagans' honour on April 27, Premier Zhao said, "President Reagan has attached importance to and taken an interest in the growth of Sino-US relations. Thanks to the efforts on both sides, the ship of our relations has more than once steered clear of submerged reefs and continued to sail ahead."
Zhao said since the establishment of formal ties, marked progress has been made in many areas. But some difficulties and obstacles still exist, the major one being the issue of Taiwan.
"It is important that since 1972 the two governments have agreed on three joint communiques which provide guidelines for the removal of these obstacles," Zhao said. "We welcome the repeated promises of US government leaders to abide by them and strictly pursue a one-China policy. We expect these promises to be faithfully carried out in action, and we hope that continued joint efforts will bring about the long-term and steady development of Sino-US relations in all fields."