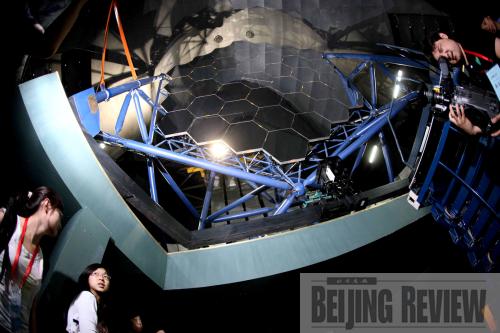 ADVANCED OPTICS: Visitors take a tour inside LAMOST on June 4 (WANG YONGJI)
The limits of human sight have been expanding ever since Galileo pointed his telescope to the sky 400 years ago. And now, LAMOST, the Chinese-built Large Sky Area Multi-Object Fiber Spectroscopic Telescope, which boasts the largest aperture in the world, is expected to allow scientists to see wider and farther than they ever have before. The equipment just passed through its testing phase on June 4.
There are two types of telescopes—one that is used for observing the details of a single celestial object at a time, like the Hubble Space Telescope, and the other, which is used to view wide fields. LAMOST, which focuses on large-scale observations called sky surveys, is in the latter class.
"LAMOST provides astronomers with a lot of basic data," said Zhao Yongheng, President of the Beijing Astronomical Society and General Manager of the LAMOST project. "In photographic terms, the former class of telescopes are telephoto lenses, and the latter are wide-angle lenses."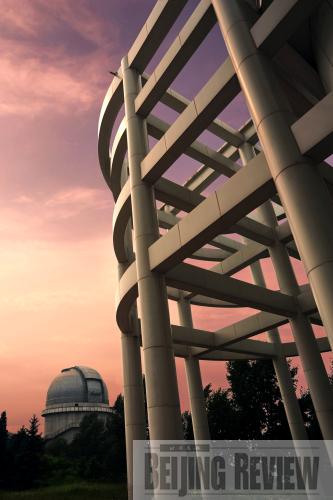 THE BIG EYE: Xinglong Observing Station is located 170 km northeast of Beijing (WANG XIANG)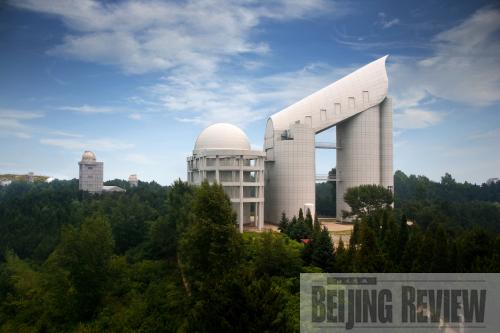 (WANG XIANG)
Hubble's mission is to discover new celestial objects, take pictures and record their brightness and position. LAMOST's mission is to obtain the spectra of celestial objects.
The optical spectra of celestial objects contain abundant physical information, just like the genetic code present in the DNA of organisms. If people are able to obtain and analyze the information, they will begin to understand the basics of distant celestial objects, including their distance, composition, distribution and velocity.
In the vastness of the known universe, researchers have been able to describe only 4 percent of matter, while the still little understood dark matter accounts for 22 percent of the universe and dark energy accounts for 74 percent of what is out there, according to Zhao.
Decoding the dark matter and dark energy riddle would bring humans another leap forward in understanding the universe, following Copernicus's Geocentric Theory, Newton's Law of Gravity and Einstein's Theory of Relativity. It could lead to a new revolution in modern physics. Spectrum survey is one of the major methods used to detect dark matter and dark energy, and is also crucial for researching the rest of the unknown universe.
However, scientists can only complete spectral measurements on about one 10,000th of the tens of billions of celestial objects due to the constraints of observational measures, as well as those of modern equipment.
Astronomers need the technology to observe the spectrum of multiple celestial objects. This requires two things—a wide field-of-view (similar to a wide-angle lens on a camera) and a large aperture (similar to the focal length). But it is difficult to build optics that put these two factors together. Among the world's existing astronomical telescopes, those with large apertures are mainly used for observing details of objects while those with large fields-of-view that survey large swaths of the sky do not have apertures built to investigate dim bodies.