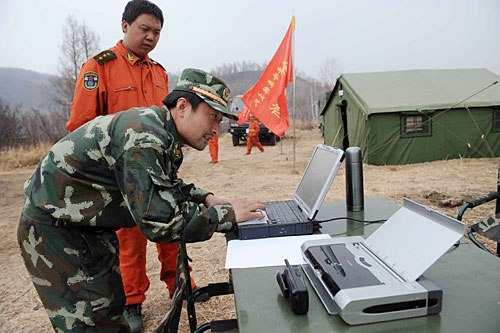 REMOTE CONTROL: Firefighters use the Beidou equipment to battle a blaze in Inner Mongolia Autonomous Region in April 2008 (ZHANG LING)
When a catastrophic earthquake measuring 8.0 on the Richter scale rocked Wenchuan County in China's southwestern Sichuan Province last May, the epicenter was immediately cut off from communication with the outside world. The communication failure was caused by the collapse of countless concrete structures, including telecommunication facilities.
That evening, the first contingent of Armed Police Force troops marched into Wenchuan. They sent destruction report messages to Beijing rescue headquarters with terminals linked to the domestically developed Beidou satellite navigation and positioning system, which is named after the Big Dipper constellation.
On the screen in the Beidou navigation systems Beijing control center, the squad equipped with terminals were seen moving closer to the earthquake's epicenter. The groups had a limited number of marine satellite phones and their wireless radio stations performed inconsistently in mountainous regions. For some brigades engaged in reconnaissance tasks, Beidou terminals became their only way to communicate.
One rescue team failed to check in with the rescue headquarters for more than 30 hours after entering a mountainous area. Finally, using the Beidou terminals they carried, the Beijing-based China Satellite Navigation Application Administrative Center was able to locate them and informed nearby troops. Backup forces were directed to them, and then relocated more than 500 residents to safe areas.
"During the earlier rescue missions after the earthquake, most of the communication was conducted through the Beidou navigation and positioning system," said Wang Yongliang, the marketing manager for China Top Communication, a company providing commercial navigation and positioning services using the Beidou system.
The Bureau of Surveying and Mapping under the Headquarters of the General Staff and the China Satellite Navigation Application Administrative Center sent more than 1,000 Beidou terminals to soldiers engaged in rescue and relief missions. The equipment established communication between different rescue teams as well as between rescue troops and Beijing's rescue headquarters.
"Before the telecommunication infrastructure was rebuilt in areas affected by the earthquake, rescue forces sent back information using the Beidou navigation and positioning system," said Zhao Kangning, head of the administrative center. The system provided nearly 70,000 positioning services for earthquake relief work and relayed nearly 30,000 text messages.
The Beidou system is not as far from people's daily lives as many believe. "If navigation satellites are radio stations, vehicles are radio sets, " said Ran Chengqi, Vice Director of the China Satellite Navigation Engineering Center, during an international forum on satellite navigation and positioning technologies in 2007.