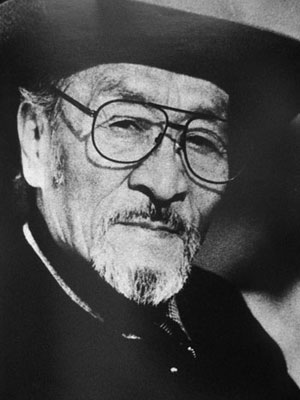 File photo of Wang Luobin (SDNEWS)
"In that distant place, there is a fine girl, whenever people pass her tent, they keep glancing back...." The love song In That Faraway Place, widely known both at home and abroad, won the top centennial award with 43 other songs in the 20th Century Chinese Musical Highlight Performance held this June in Beijing. The great honor followed on another, the 1992 Gold Disk Award from the China Gramophone Co. A total of 124 songs and works scooped prizes. Characterized by strong folk flavor and melody, and deep feeling, the song has been loved and sung by successive generations since it was created in 1939. Over the following decades, its composer, the octogenarian Wang Luobin, has earned the public spotlight.
Nevertheless, the lyric is not the only one of his songs to have long endured. Wang was among the first to receive a modern musical education in China. In 1931, the 18-year-old Wang, a natural musical prodigy, passed the entrance examination of the Musical Department of Beijing Normal University, where he received regular training for several years. After graduation, he went to China's northwest areas and began his long study, collection and collation of local folk songs. In 1949, he settled in the Xinjiang Uygur Autonomous Region as an artist of the Chinese People's Liberation Army and has resided there ever since. Many of his masterpieces including Mayela, Dudaer and Maria, Uncover Your Veil, I Will Wait for You Till Tomorrow, and The Crescent Climbs Up originate from folk songs in Xinjiang and the northwest, and have been sung for decades.
Wang belongs to the older generation of musicians who deeply cherish Chinese folk music and takes it as the source of his inspiration. He recalled, "When I first stepped into the huge northwest 50 years ago, I was thrilled and enthralled by the folk music there." His initial fixation with the genre has never wavered. It has led to his creation of several hundred widely loved, redolent folk songs. He has also put together pieces such as Sound of Northwest, Sound of Qinghai, Lyrical Song of Kazakh and Collected Songs of Wang Luobin. Many of his lyrics have gone beyond the borders of China to be cited as typical Chinese songs by foreign fans of Chinese music.
Folk music has been crucial for the now elderly Wang Luobin. He has endured a life full of frustrations. From the 1950s, he was unfairly treated. Sadly his wife died in middle age. But his songs were never forgotten. Music not only soothed his broken heart, but helped him become open-minded and magnanimous, not seeking fame and wealth. He said, "I attribute the wide-spread distribution of my songs to their intrinsic appeal. Many overseas Chinese and Taiwan and Hong Kong people discover their love and memory of their homeland in my songs. In Singapore, an elderly lady, after attending a concert of my works, gave me a necklace she had crafted. The pendant is inscribed with such words 'Conveyer of Songs'. I liked that title. I have never regarded myself as a famous composer of lyrics. 'Conveyer of Songs' suits me best."
The octogenerian is now entering a new period of creativity which he calls "A 500-Year Life Plan." "I don't intend to live for 500 years. But if I can ward off death, I will dedicate more and better songs to be sung for five centuries," Wang noted. Recently, Wang collated 16 Xinjiang folk songs, which will soon be released by a major record company in China. He considers these songs superior to his former ones.
Wang Luobin, who was born and educated in Beijing, has spent most of his life in Xinjiang and the northwest, which he now sees as his native land. Since the 1980s, when China started its reform and opening to the outside world, his songs, colored by his uneven and fantastic personal experiences, have become more well known overseas. He has been frequently invited abroad to give lectures or take part in special performances of his works. As his fame grows, many people ask Wang whether he will bid farewell to Urumuqi, his home for many years, to obtain a better lifestyle. He answers, "My melodies stem from Xinjiang. They have helped me survive difficult times and I cannot pull myself away."