The Ministry of Commerce (MOFCOM)'s announcement on March 18 that it had rejected Coca-Cola Co.'s $2.3-billion bid to buy Beijing Huiyuan Beverage Group Co. Ltd. (Huiyuan) brought an end to what would have been the biggest acquisition by a foreign company of a Chinese one.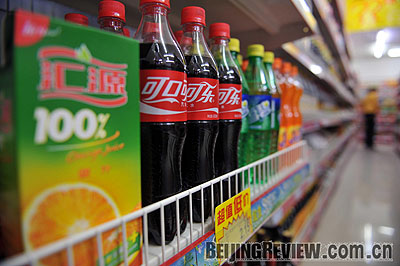 NOT QUITE HEAD-TO-HEAD: Huiyuan juice and Coca-Cola stand side by side on a shelf at a Beijing supermarket ()YANG LEI

It was the first such proposed acquisition to be denied since the country's Anti-Monopoly Law came into effect last August 1. Some foreign media reports said the Chinese Government rejected the deal because of protectionism. Some Chinese reports said the Ministry of Commerce's decision reflected its adherence to legal provisions in determining whether the acquisition would create a monopoly.

The MOFCOM's rejection actually turned out to be a help to Coca-Cola on the Chinese market and was not an example of trade protectionism, said Pan Hong, a professor of international trade at Beijing Technology and Business University.

Long history in China

Coca-Cola Co. entered China in 1979 and has become a leader in the country's soft drink market over the past three decades. Its carbonated drinks occupy the largest market share in China and generate 70 percent of its revenue here.

While the market share of carbonated drinks has been shrinking annually, the non-carbonated market has been growing. The juice products developed by Coca-Cola, such as Minute Maid Pulpy, have been not able to stand up to Huiyuan's products. In proposing the deal, Coca-Cola was aiming to strengthen its brand influence and increase its market share in China, as well as build up its non-carbonated drink business in the country.

"Huiyuan is a long-established and successful juice brand in China and is highly complementary to the Coca-Cola China business," said Muhtar Kent, President and Chief Executive Officer of the American beverage company in a press release on September 3, 2008. "This acquisition will deliver value to our shareholders and provide a unique opportunity to strengthen our business in China, especially since the juice segment is so dynamic and fast-growing in China."

In the meantime, Huiyuan had wanted to sell its juice and canning businesses to invest more time and money into the upstream juice segment, such as improving Chinese fruit varieties and deep processing of fruits. Zhu Xinli, President of Huiyuan, told a September 3 press conference that the competition in China's beverage industry had intensified and makers were now focusing on fruit supplies instead of production. Controlling raw material supplies was a key point for a company to come out on top of the competition, he said.