The Ministry of Commerce on March 18 rejected Coca-Cola Co.'s proposed acquisition of Beijing Huiyuan Beverage Group Co. Ltd. (Huiyuan), China's largest juice maker-the first big deal to be quashed under the country's Anti-Monopoly Law that took effect last August.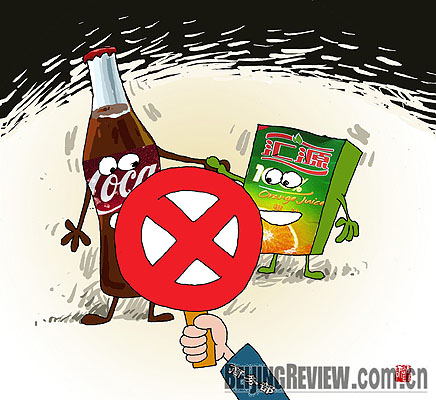 The ministry said the deal "may produce effect of ruling out or restricting competition and will impose unfavorable influences on the effective competition on China's juice market and the sound development of the juice industry."
Coca-Cola offered to buy Huiyuan for HK$17.92 billion ($2.3 billion) in cash on September 3, 2008. Fifteen days later, the American beverage company filed an application with China's Ministry of Commerce for approval.
According to China's Anti-Monopoly Law, mergers or acquisitions must go through an anti-monopoly review if the proposed deal involves a company whose revenue exceeds 400 million yuan ($58.57 million) in China or all the companies involved have a combined revenue of 10 billion yuan ($1.46 billion) worldwide.
The ministry accepted Coca-Cola's application on November 20, 2008, and after a preliminary examination, it decided to further investigate the acquisition a month later to determine whether the deal would have an adverse impact on other rivals, consumer rights or technological innovations.
In an announcement, the ministry said that because Coca-Cola and Huiyuan were both major brands in China's juice market, the acquisition would have restricted competition and made it more difficult for other players to enter the market. According to the ministry, the deal also would have squeezed the development space of other small and medium-sized enterprises and would have been detrimental to the development of the country's juice industry.
"If the acquisition went into effect, Coca-Cola would be very likely to reach a dominant position in the domestic market, and consumers may have had to accept a higher price fixed by the company, as they would not have much choice," the ministry's announcement said.
Both companies said they would respect the ministry's decision.
"Huiyuan Group respects the decision of the Ministry of Commerce on Coca-Cola and Huiyuan's merger and acquisition case," Huiyuan said in a statement after the deal was rejected, adding that the company would continue to operate as normal.
"We are disappointed, but we also respect the ministry's decision," said Muhtar Kent, President and Chief Executive Officer of Coca-Cola, in a company statement.
On March 19, the first trading day after the ministry rejected the deal, Huiyuan's share price fell by HK$3.5 per share, or 42.17 percent, to close at HK$4.8. By comparison, on September 3 when the acquisition application was made known publicly, Huiyuan's share price soared 164 percent from HK$4.14 to HK$10.94.
Enhancing anti-monopoly regulation
Minister of Commerce Chen Deming said at the China Development Forum 2009 in Beijing on March 22 that the government's rejection of Coca-Cola's bid to acquire Huiyuan was not protectionist. He noted that the two companies were both foreign companies-although Huiyuan operates mostly in China, it is registered in the Cayman Islands and listed in Hong Kong. The attempted acquisition took place between two foreign companies and did not involve China's policy on foreign investment, he said. The rejection was based on whether these two companies' sales in China would create a monopoly, Chen said.