The State Council's revitalization plan for the iron and steel industry calls for a speedup in the sector's overall upgrade and the transformation of its "big" players into "strong" international competitors.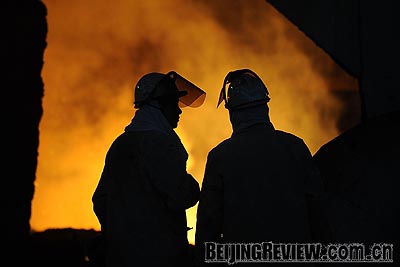 GUO DAYUE:INTO THE FIRE: Operators work at a new type of blast furnace at Anben Iron and Steel Group Co. in Anshan, Liaoning Province

Li Xinchuang, Vice President of the China Metallurgical Industrial Planning and Research Institute, believes the aim of the revitalization plan is to make the most of the current opportunity of the industry's in-depth restructuring to improve its structure, enhance the quality of its products, boost its international competitiveness and promote the steady development of related industries and the national economy.

As the world's largest iron and steel maker, China produced 504.9 million tons of iron and steel in 2008, which accounted for 38 percent of the global total and equaled the combined output of Japan, the United States, Russia, India, South Korea, Ukraine and Brazil-the second to the eighth largest steel producers in the world.

The global financial crisis caused China's steel market to shrink beginning last September, when prices began to come down. The entire industry suffered losses up to November. According to a financial analysis of 71 large and medium-sized steel companies by the China Iron and Steel Association (CISA), the entire industry that month reported losses of 12.77 billion yuan ($1.87 billion). About 67.7 percent of the companies, or 48, had lost money.

The financial crisis has hit the steel sector harder than other industries, because its output is huge and it is highly related to other industries, Li said. Because iron and steel serve as an "industrial grain," the sector's development stimulates the development of other industries, he added.

"The invigoration of the iron and steel industry will not only stabilize society, but also lead the way to the reversal of the economic situation," Li said.

Development goals

The circular issued by the State Council to local governments on February 11 said the goal of the revitalization plan is to try to stop the downturn in the iron and steel industry and maintain its steady development this year. It also said the sector's extensive development pattern can be transformed up to 2011; its technical and innovative capabilities can be advanced; its comprehensive competitiveness will be markedly enhanced; its status as a pillar industry will be further consolidated and strengthened; and the industry will step to a sound cycle of development.