The global financial crisis is far from over as world economic growth continues to decline.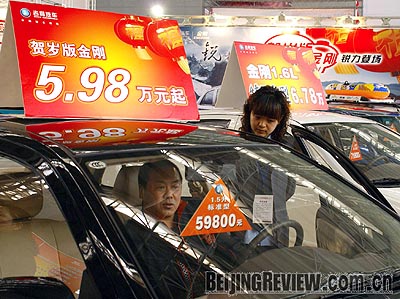 A GOOD DEAL? People in Harbin of Heilongjiang Province look at an economy car in an auto showroom. The rising number of automobile purchases nationwide is becoming a major force in China's efforts to upgrade its consumption structure (WANG JIANWEI)

Can China stop the downward tendency of economic growth and reach an economic soft landing? Can China take the lead in getting out of the shadow of the economic crisis? Chen Huai, Director of the Economic Research Institute of China's Urban and Rural Development under the Ministry of Housing and Urban-Rural Development, discussed these questions in a recent article in the Economic Information Daily. Edited excerpts follow:

In taking the lead to get out of the shadow of the economic crisis, China is more confident than any other country in the world. Our confidence comes not only from our room for adjusting short-term macro-control policies such as monetary policy and fiscal policy and our huge market of 1.3 billion people, but also from our late-mover advantage as an emerging economy and the development stage that China is in.

Fast urbanization process

Among the engines of China's economic growth in 2009, urbanization will be the one that is the most independent of international capital compared with exports, small and medium-sized enterprises, manufacturing industries, finance and the capital market.

During the past 30 years, especially since the 1990s, the urbanization process has become one of the strongest driving forces for China's fast economic growth. In 1978, China's urban population was only 170 million, accounting for 17.92 percent of the country's total population. In 2007, the above two figures reached 590 million and 44.9 percent.

The accelerated urbanization process is not only seen in the increased urban population, but also in the country's massive accumulation of fixed assets and infrastructure construction. For example, China's urban areas have expanded from 12,900 square km in 1990 to 35,500 square km in 2007, while the total road length in Chinese cities has increased from 95,000 km in 1990 to 246,000 km in 2007.

We have experienced the initial stage of urbanization when large input has not only driven up economic growth, but also rapidly assembled hundreds of millions of urban residents and produced huge amounts of fixed assets and infrastructure in urban areas. All these have provided a strong material foundation for future economic growth that has occurred more rapidly than investment growth.

Now China is in a development stage of a "fast increasing marginal effect" on the urban economy; that is, a small amount of added input will produce much more economic output.

The ongoing global financial crisis fundamentally resulted from a surplus of capital. When industrialization and urbanization ended, developed economies had capital surpluses. Industrial sectors could not contain excessively large amounts of capital; hence, surplus capital became "hot money" and was poured into the stock market, bond market, foreign exchange market, futures market and oil market that are in a fictitious sense, as well as various complicated derivatives markets. The risks of accumulated surplus capital led to today's crisis. The problem of a capital surplus will absolutely not be easy to solve with the temporary rescue measures worked out by the governments of various countries.