The Chinese Government included television makers, telecom equipment providers and software companies on its list of the 10 industries it wants to rejuvenate through stimulus packages. The electronics and information industry was the sixth industry chosen for a support plan on February 18.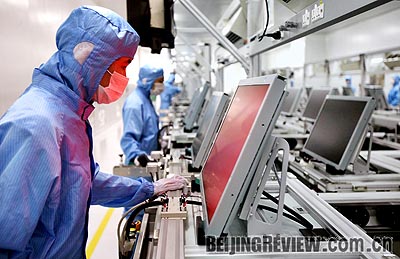 TECH PIONEER: Hisense is China's first TV maker to switch to producing technologically advanced screens and monitors. The Qingdao-based company established its first LCD line in 2007 (XINHUA)

The industry has been severely hit by the global economic downturn, as foreign orders for its products have plummeted along with reduced foreign capital investments. Many subsectors of the industry also have seen their exports and foreign direct investments drop significantly since last July. The increase in the total import and export volume of related products has slowed down since last August. Imports fell 23.9 percent last November, while exports dropped 10.4 percent from the previous year's same period.

The sector's stimulus plan, the detailed policies of which the government is still working on, aims to help enterprises cope with shrinking overseas orders by encouraging innovation and boosting domestic demand for their products and services. With its focus on optimizing the industry's structure, its innovation capacities and the application of information technologies, the plan will specifically fund six major projects to promote technological breakthroughs: third-generation (3G) mobile telecommunications, integrated circuit technology upgrades, new types of displays, digital televisions, the next generation of Internet applications, and software and information services.

"Compared with the preferential policies for traditional industries such as textile and auto manufacturing, the one we got here covers more businesses while having fewer requirements on enterprises," said Wang Rulin, an e-commerce expert who helped draft the plan, according to Telecommunication Weekly, a publication affiliated with the Ministry of Industry and Information. "It's more like a comprehensive recipe for the industry's future development."

The Central Government also hopes to mobilize local government and private capital investments and attract medium and high-end talent to this industry by investing in a few key projects, Wang said.

Innovation is the priority

A high reliance on overseas markets and a weak capacity for independent innovation are the two main problems that plague China's electronics and information industry. The government wants to remedy the situation by creating domestic demand for its products and supporting local enterprises with innovative advantages.

The color television sector, for example, yields nearly 200 billion yuan ($29.3 billion) in annual output value, about 23 percent of the total industry and is regarded as one of its pillar subsectors. Yet, China's color-TV manufacturers, which currently export more than half their products overseas, have seen their production and exports dive since last October.