With export orders drying up and painful factory closures everywhere, expectations for a quick end to the downturn in China's textile industry are fading fast.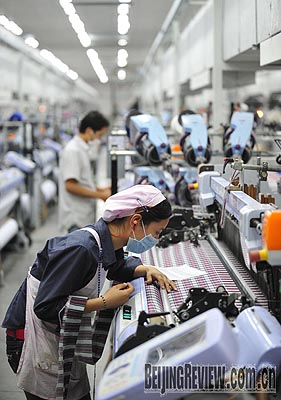 CRISIS OPPORTUNITY: The Jialida Textile Co. Ltd. of Guangdong Province has expanded its market share amid the economic downturn by improving its product quality with the help of hi-technology LU HANXIN

But one consolation is that the sector still has a room to maneuver before sinking into a quagmire. Now with government backing behind it, the sector's eventual recovery seems just a matter of time.

In its latest move to turn around the textile industry, the government in early February enacted a revitalization plan combining short-term stimulus efforts and long-term structural and geographical adjustments to the industry. By dubbing the sector a pillar industry that enjoys an advantage in international competition, policy makers are sending a clear message that they will not leave textile manufacturers alone to fend for themselves. As the world's biggest supplier of clothing and shoes, China's textile industry accounts for more than 10 percent of the country's total exports and provides millions of jobs.

Turnaround on the way

Industry analysts believe that the heartening news has sparked a surge of confidence in the depressed industry which is approaching a nadir. Details of the program expected in the coming months will dictate how quickly the recuperative efforts can translate into consumer demand and push through industrial adjustments, they said.

Yet among the sketchy outlines, one thing is clear--the tax rebate for textile and garment exports has been raised to 15 percent from 14 percent. Last year saw two hikes in the rate.

"The rebate increase, though more milder than expected, will provide a firm backstop to numerous small and medium-sized textile manufacturers sliding into red ink," said Xu Kunyuan, Vice Director of China National Textile And Apparel Council (CNTAC), in a statement.

According to a report by China Galaxy Securities Co. Ltd., the 1-percentage-point rebate hike will bring a profit of around 4 billion yuan ($585 million) to the sector, a long-awaited boon for beleaguered exporters with eroding margins.

After decades of exploding growth thanks to cheap labor and hyper-demand from shopaholic Americans, the bottom two thirds of companies in the sector were caught in a tailspin last year as the financial crisis roared across the United States, a major export destination for China. Looming recessions in Japan and Europe also made switching exports to other high-income markets a remote option.

More disturbing, though, is the fact that the textile downturn has yet to show signs of letting up. According to data from the General Administration of Customs, textile exports in January dropped by a record 0.65 percent year on year.

"Those gloomy figures have poured cold water on a wave of optimism that the sector has put the worst behind it." Xu said. "However, it may start to bottom out in the latter half of this year when the rebate policies gain traction and the revitalization plan that will polish its long-term prospects takes roots.

Rebalancing commitment

A key step in China's revitalization plan is to further tap domestic markets, which seems like a natural choice given the precipitous downturn in Western nations.

"The government spending spree will give a lift to domestic textile demands," said Sun Huaibin, a CNTAC spokesman, in an interview with China Quality Daily. "Moreover, the rural market will also emerge as a new battleground for some of the biggest brands."

With more stimulus efforts coming into play, the livelihoods of farmers are expected to improve, whetting the rural appetite for more textile products, he added.

According to CNTAC data, the sector currently relies on the domestic market to digest 77 percent of its output, an increase from nearly 60 percent in 2000. But it is less likely that the domestic market will fully offset the external contraction since an excessive capacity has been brewing in the sector, said Sun.

China's textile manufacturers mushroomed in the 1990s when the cheap and fine "made-in-China" products started to sweep through the world. But many of those were small and medium-sized manufacturers with low-technology and labor-intensive productions. They saturated the domestic market and grabbed a slice of the export pie. But when the overseas markets crumbled and domestic competition intensified, they had no place to hide. A whirlwind of profit warnings has signaled a rapid deterioration of their financial health.

As the revitalization plan implies, the government is gearing up to consolidate the industry by eliminating outdated production capacities and push ahead with mergers and acquisitions in the sector. Moreover, special funds will be set up to help with technological innovations and brand promotions of backbone enterprises.