China joined a worldwide effort to salvage its economy from being shattered by the devastating financial turmoil. Since the very beginning of this year, it has been working out a string of revitalization plans to bolster the nation's backbone industries, including autos, iron and steel, shipbuilding, petrochemical, textile, equipment manufacturing, electronic and IT, nonferrous metals and light industries.
By a rough estimation, those heavyweights jointly produce one third of China's gross domestic product (GDP), create 80 percent of all added value of the industrial sector, and account for 35 percent of the nation's tax revenue.
In this issue, Beijing Review analyzes four of those plans, offering our readers a quick glimpse of how China intends to revive its flagging economy.
Auto industry analysts and car dealers are hailing the government's detailed blueprint to jumpstart the country's auto industry and prevent it from succumbing to the global economic downturn.
HIGH VOLTAGE: At a large-scale auto industrial manufacturing base in Tianjin, a car driven purely by electricity is tested in rainy conditions (LIU HAIFENG) 
New details about the plan emerged late last month, following the issuance of a general policy in January to revive a dozen of major industries. The government selected the auto sector first, demonstrating the great importance that it attaches to the industry. Auto manufacturing is one of the country's pillar industries, especially because it drives demand for products produced by a chain of other industries such as iron and steel, oil and spare car parts.
The most recent government figures available indicate the auto industry accounted for 2.3 percent of the country's GDP in 2007. Approximately 2.9 million people worked in the industry that year, and another 30 million were employed in auto-related sectors.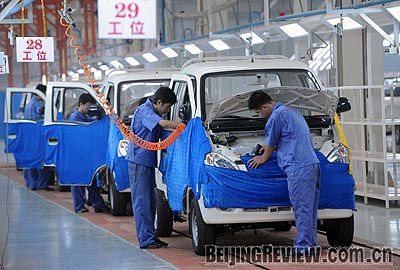 MAINSTAY INDUSTRY: Every single auto industry job in China creates seven employment opportunities in related industries (LIU HAIFENG)
Once a burgeoning market, China's auto sales have recently been weighed down by sagging global demand. In January, a total of 735,900 automobiles were sold in the country, a 14-percent dip from the same month last year. Sales of passenger vehicles also dropped by more than 7 percent year on year in January, according to the China Association of Automobile Manufacturers (CAAM).
Despite bleak domestic demand, China nonetheless overtook the United States as the world's biggest car market in January for the first time in history against the backdrop of even worse situation in the United States. The U.S. Government is pouring money into its automakers in an attempt to keep some of them solvent. But a U.S.-style bailout seems unnecessary in China at the moment given the relatively healthy balance sheets of car manufacturers here.
To ensure the industry does not succumb to the same fate, the Chinese Government has placed auto revival at the top of its industry revitalization agenda.
Government commitment
The plan's main actions include cutting in half the sales tax on purchases of cars with engines that are less than 1.6 liters, appropriating 10 billion yuan ($1.46 billion) for technological innovations, and restructuring the country's current 14 auto-manufacturing groups into 10. The revitalization plan also proposes to increase the market share of Chinese-brand passenger vehicles to 40 percent through the auto manufacturers' concerted research and development efforts.
In an effort to tap the country's vast rural market, the State Council outlined a scheme to boost rural auto consumption by offering subsidies and tax cuts. The plan is scheduled to take effect on March 1.