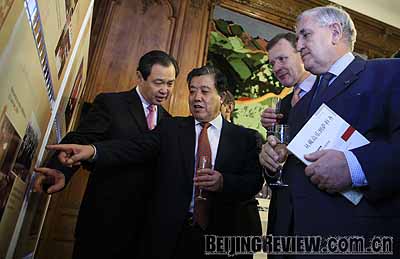 GOLDEN MEMORIES: Chinese Ambassador to France Kong Quan (left) shows former French Prime Minister Jean-Pierre Raffarin (right), Jean de Gaulle (second right), a grandson of former French President Charles de Gaulle, and Yang Wenchang (second left), President of the Chinese People's Institute of Foreign Affairs, around a photo exhibition at the Chinese Embassy in Paris on January 27 to mark the 45th anniversary of Sino-French diplomatic relations (ZHANG YUWEI)
France established diplomatic relations with China on January 27, 1964, becoming the first major Western power to do so. Relations between the two countries have since undergone dramatic changes. In a recent interview with Nouvelles d'Europe, a Chinese newspaper based in Paris, Kong Quan, China's Ambassador to France, summed up these changes while offering his own interpretation of the two countries' differences. Excerpts follow:
Nouvelles d'Europe: How would you evaluate the development of relations between China and France since the two countries established diplomatic relations 45 years ago?
Kong Quan: The establishment of diplomatic relations between China and France was a significant event. Looking back at the past 45 years, we find that major changes have taken place in China, in France and in the relations between China and France and between China and Europe.
The past 45 years have witnessed close contacts between China and France and the continued development of the two countries' traditional friendship. The establishment of diplomatic relations between China and France opened a new chapter in the two nations' friendship, giving a new dimension to their exchanges. When they established diplomatic relations, some 4,000 people traveled between China and France every year. Today, more than 4,000 people travel between the two countries every day. No cities in the two countries had cooperative relations back in 1964. Today, 65 pairs of Chinese and French cities and provinces are sisters. Last year, 700,000 Chinese traveled to France, whereas 400,000 French people visited China.
The past 45 years have witnessed the deepening of our bilateral understanding. While they knew little about each other 45 years ago, the Chinese and French people have gained a deeper and broader understanding of each other, especially each other's changes. They now look at each other in a more comprehensive and objective way than in the past.
I'd like to emphasize that mutually beneficial cooperation between China and France has rapidly developed and continued to deepen and expand in the past 45 years. Politically, the two countries have identical or similar views on many major international issues. We share common aspirations for world peace and development. In particular, we both pursue an independent foreign policy. Our cooperation is mutually beneficial and complementary. As our cooperation forges ahead, we have put in place a mechanism for the regular exchange of visits between Chinese and French leaders. Our state leaders, heads of governments, parliamentary leaders and ministers meet not only in China and France but also on different international occasions. We have also had good coordination and cooperation in international affairs.
In the fields of business and trade, two-way trade totaled about $100 million a year 45 years ago. Today, it can reach this amount on a daily basis. About 3,500 French enterprises have operations in China. They operate in almost all Chinese provinces in a great number of business areas including transportation, energy, aircraft manufacturing, food and construction materials, reflecting the mutually beneficial and complementary nature of the two countries' business and trade ties. It is pleasant to note that a new trend has emerged in recent years: More and more Chinese companies have ventured into France in search of business opportunities. They have also contributed to the two countries' cooperation.
On the scientific and technological front, China took an active part in the International Thermonuclear Experimental Reactor project from its very beginning. It supported building the reactor in France. This testified to the two countries' strong desire to carry out international cooperation on cutting edge technology.
Educational cooperation has also been fruitful. The first 100 Chinese students made headlines when they arrived in France in 1965. Today, about 30,000 Chinese students are studying in France, and the number is still growing. More than 6,000 French students are studying different subjects in a number of Chinese cities. China has set up a dozen of Confucius Institutes and Confucius Classes in France where French students learn the Chinese language while familiarizing themselves with Chinese culture and China's latest developments. Moreover, France offers Chinese courses in primary and secondary schools and universities, indicating a heightened interest in China among students and the French general public.
In the field of cultural exchanges, 45 years ago, a Chinese art group would visit France every year or two. Today, more than 80 Chinese art groups stage performances across France every year. A Chinese basketball team's visit to France would cause a big sensation in France in the early days of China-France diplomatic relations. Today, the Chinese fencing team has a French coach, while Chinese badminton and table tennis players are serving as coaches in French clubs.
Military exchanges have made great strides as well. In the past 45 years, they have become higher in level and more diversified in form. The exchanges of port calls by Chinese and French naval ships are telling examples in this regard.
The development of China-France relations has not always been smooth sailing. But China has always attached great importance to these relations, believing that cooperation and development are the mainstream. It is our expectation and belief that France will join hands with China to create a bright future for our relations.
In my view, China and France should look at our relations from an overall and long-term perspective. Our relationship is not a simple bilateral relationship. Both China and France are important countries in the world and permanent members of the UN Security Council. Both exert a major influence over international affairs. We should therefore go beyond our bilateral relations to consider their overall and long-term significance.