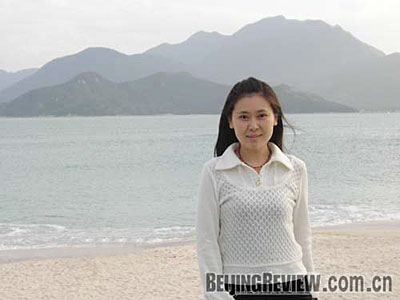 Courtesy of Jin Shengna
Jin Shengna, one of the bosses of the Fuqilai Boutique Website, was among the first generation of people born after the reform and opening up period.
Born in Tongling County, east China's Anhui Province, she studied at Peking University in 1997, receiving a Bachelor of Economics after studying international finance and financial management.
Like most contemporary young people, Jin is full of confidence in pursuing her own target of meeting challenges and upgrading herself.
She has been in some large cities previously including Beijing, Shanghai and Shenzhen, and acted as marketing director at Beijing Yawei Sci-Tech and Legend Holding Ltd. Between 2005 and 2007, she was deputy head of business development section and assistant to the vice-president of the American International Assurance (AIA) Ltd. Shenzhen Branch.
"Although I like marketing work, which I have done for years, I prefer a job that is full of challenges and creations. However, working for others is hard to realize this goal. That maybe one of the reasons why I chose to set up a business of my own," she said.
Currently she is running the web-based business with some of her friends, who cherish the same ideals and follow the same path as her.
Her online shop sells mainly fashionable gifts and accessories like jade, crystal and azure stones, as well as make-up requisites and home furnishings.
Compared with large comprehensive websites like Taobao.com and B2C (business to consumer) sites, Jin elected to sell competitive exquisite goods targeted at young people. "Since it is hard for us to compete with large websites that have already taken shape, we have to showcase our own characteristics, and establish our own brand," Jin said.
Jin was confused about her future direction for a period. "I had a lot of ideas and wanted to do a lot of things, but no one told me what I should do and shouldn't do," Jin recalls
However, an idea occurred to her when she was doing a marketing job. "I was asked to market 'Faretie,' a kind of article carried by people for warm use, but the boss didn't offer me any funds or sales channels, that were needed to make an advertisement or to pay for supermarket shelf space (if I wanted to sell the product at a super market)." The dilemma prompted her to think about selling the article through the Internet as a platform.
"Starting an Internet company costs fairly less, and is suitable for those who lack funds, and can benefit with the development of a business, since many young people today are fond of surfing on the net to satisfy their needs, including finding a job, renting a house, or going shopping," she remarked.
Her online shop was initially set up a few months ago, with all of the work, such as logistics and product packaging, done by her friends. She herself is responsible for the website's editing and commodity marketing.
"We work very hard, and will hire more people when we earn more money," she said.
Another part of Jin's life is to participate in public good charity activities. "I can do without a company, boss, or money, but I should do what I can do to help those in need, for example, helping the May 12 earthquake-hit victims in Wenchuan in China's Sichuan Province," she said.
On Children's Day, June 1 this year, Jin coordinated with the Guanghua School of Management at the Peking University to donate 500 toys and 10,000 yuan ($1,470) for children in quake-stricken areas. When the Beijing Municipal Government arranged for 30 children from the quake areas to come to Beijing to a Summer Camp Program with the theme "For Tomorrow," Jin also sent each child a teddy bear.
The successful launch of the event added to her determination and confidence to perform more good-will gestures.
"Certainly, it's not possible for me to launch the activities alone. As Alibaba's Chief Executive Officer Ma Yun said, you need friends who cherish your ideals, both in terms of creating businesses or in terms of life," Jin noted. "When the Website makes more money, we will enter more charity activities," she said.