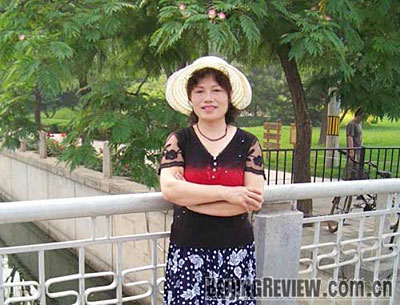 Courtesy of Li Qiuping
Li Qiuping, 52, is a primary school teacher in Ningdu County, of central China's Jiangxi Province.
As most of her peers experienced during the period of the Cultural Revolution (1966-76), Li went to the rural areas to get "re-education" as farmers after finishing high school.
In 1977, Li was among the first batch of students to enter university soon after the national college entrance exams resumed.
A better life
Approaching graduation, Li was offered a Chinese teaching job in the university's affiliated primary school because of her academic excellence.
"My parents were proud of me because few females had a full-time job at the time in the county," Li recalls.
But life in the early 1980s was hard. "I had to live with my parents, as there was no dorm or flat available. My salary was around 40 yuan ($10) per month, which was often paid in arrears -- maybe two or three months later, so I had to save money and spent it economically," Li told Beijing Review.
"The only two places I went to were the office and my home, for there was nowhere for pastime; even the radio was a luxury. I stayed at home during the summer and winter vacations, because it was too expensive to go around. I led a simple life at the time, materially and spiritually; and so did my colleagues as well," Li giggled.
There was a sea change in the 1990s as the life quality of Li and her colleagues became better. The standard salary of a teacher increased multiple times from 40-50 yuan per month, to the equivalent level of a government employee. Moreover, teaching became a desirable job.
"Through these changes, I could feel that people became aware of the importance of education," said Li.
Meanwhile, Li's spare time became colorful due to the advent of the TV set and the Internet. The square in the county's center was available every morning and evening for group dancing and taijiquan, a kind of traditional Chinese shadowboxing. "I went hiking or swimming at the weekend; and traveling during the vacations," said Li.
Better education
In 1995, Li was promoted to vice head of the guidance office; and later the vice president of the school. In total, she had risen to this position in 20 years of working there since she graduated.
The reforms in compulsory education, in Li's eyes, are impressive and remarkable.
"The annual tuition fees for a pupil in the past were hundreds of yuan, which could be a huge burden for poor families. But now it's free and the accommodation allowance is offered for those who come from rural areas. They must just pay less than 100 yuan ($14) per semester for newspaper and magazine subscriptions, insurance and movie tickets," said Li.
In addition, modern equipment such as TV, computers and projectors had been introduced into regular teaching and learning in the classroom.
"When I was a student, the only thing I did in class was to take notes as the teacher wrote on the blackboard. It was boring. But now, pupils will have fun and enjoy the class through multi-media," Li continued.
The teachers' qualities and capabilities, according to Li, have become higher as well.
"Take myself as an example. I got a bachelor degree via part-time courses in the early 1990s; and my professional job title went up from a junior teacher to the senior level. I did research work in my spare time, and my academic papers on education got published in city- and provincial-level magazines," Li told Beijing Review.
Her hard work paid off. In 2004, Li was among only four others in the county who secured qualifications as special-grade senior teachers in primary school, equivalent to an associate professor in the university.
"My daughter is now working in Beijing after graduating from the university," said Li. "There is no time for me to feel lonely after retirement, because there are really a lot of things that can be done. For example, I can go to the community university to have hobby classes; join singing and dancing groups; or have taijiquan class."