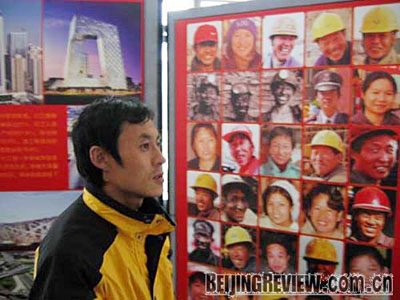 Wang Dezhi, 31, is a migrant worker in Beijing.
Coming from a peasant family in north China's Inner Mongolia Autonomous Region, Wang spent most of his childhood reading books, while most of his peers indulged themselves playing cards.
In China, the conventional path for a rural teenager who intends to change his/her life is to enter a university in an urban area; Wang is no exception. Unfortunately, his dream of becoming a college student was smashed by the reality that his family could not afford to school three boys. As a result, his studies were discontinued when he was in junior middle school.
"I had no choice since I'm the eldest son. It's really frustrating," Wang told Beijing Review.
Wang and his father had a small food retailing business in his hometown afterwards. The money they earned could just cover basic needs.
"I was going on 20 years old at the time, and it's common to think about marriage life at my age in my hometown," said Wang. "But it was not the life I wanted. I made up my mind to seek a new life in a big city."
A nowhere man
Wang arrived in Beijing, the furthest place away from home he had ever been, at the end of 1995.
"I did not have any professional skills due to my early dropout. My goal in Beijing was quite simple and somewhat naive--to perform Xiangsheng (crosstalks or Chinese comic dialogue, a traditional Chinese folk art) at the Chinese lunar New Year gala in China Central Television (CCTV)," said Wang.
However, the threshold for the gala performance seemed too high to reach for the ambitious Wang. Launched in 1982, the evening gala is broadcast live on the night before the Chinese lunar New Year on CCTV-1, and consists of songs, dances, short dramas, comic dialogues and so forth. All the performances on stage should undergo strict examination in advance. Because it is viewed by an estimated 700 million people nationwide, the gala has become a cultural phenomenon on Chinese mainland, and since then has become a staple fixture of lunar New Year's nights.
Wang failed to get the audition as he was informed that the time for examinatin was over. Worse still, he almost ran out of money. Fortunately, he soon got a kitchen hand job and later was promoted to a chef; his salary also increased to 1,000 yuan ($125) per month from 300 yuan. But his chef career was not as smooth as he expected--he lost the job a few months later because there were too many chefs in Beijing at the time.
"I had to change jobs frequently after that. I used to work in a bakery and a water delivery center; and I also handed out advertising pamphlets on streets, which was actually not allowed," Wang told Beijing Review.
New directions
The year 2002 was a turning point in Wang's life. He joined a non-profit organization, becoming a part-time comic dialogue actor. In November, Wang and his friends set up "The Home for Migrant Workers" in northern Beijing, a non-profit organization designed to provide social services for migrant workers.
"They could get access to books and an Internet connection as we rented two classrooms in a primary school as a library and a computer room respectively. Moreover, they could receive vocational training in collaboration with nearby university communities," said Wang. "The singing and dancing show would be available over the weekend."
In July 2005, the Home was finally settled down in Picun Village in the eastern suburbs of Beijing after frequent moving around. Its power and influence have been gradually expanded since then.
Currently, there are 10 sub-organizations extending from the Home, including a museum, school, culture and education association, arts troupe and consultation center, one for each respectively; and five stores. Wang became a full-time employee at the consultation center in 2006.
Launched in August 2004, the center is designed to provide legal consultation, emergency aid and rights protection training for migrant workers.
"We will encourage migrant workers to protect their rights in a more active way. For example, they will be informed of detailed rights protection methods and procedures upon calling us. By doing that, they won't rely too much on us; and the awareness of their rights protection will be strengthened," Wang noted.
Since 2007, Wang took in charge of the store management.
"The social enterprise model was introduced to the management. For example, we sell donated clothes by universities students to migrant workers with a price lower than 10 yuan ($1.4) each. It's a good way to help them save money," said Wang. "We tell the students the truth, for sure."
"As to the revenue, we are planning to use it as a fund to sponsor the Home's actives, which will be opened to public inspection," he said.
"I'm not a 20-something daydreamer any more. I'm not a destined comic dialogue artist who will get fame from the Chinese lunar New Year gala. There is no better place than here because it is my home," he added.