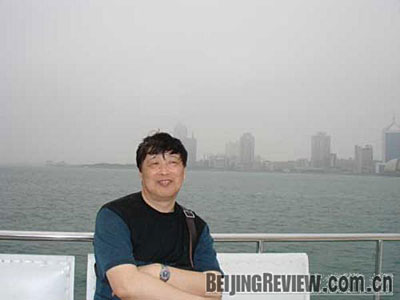 Courtesy of Huang Qingxian
"China's reform and opening up program offered me a stage where I was able to make full play of my talents and capabilities," said Huang Qingxian, Board Chairman of the Danyang Commercial Plaza, a well-known retail enterprise with more than 400 workers and staff in the city of Danyang, east China's Jiangsu Province.
From planned economy to market economy
Huang became a stockhouse manager at the Danyang Department Store, a large state-owned retailer, in 1971 when he graduated from high school. "I earned less than 30 yuan ($3.6) then, and 31.5 yuan ($3.8) a month in 1980," recalled Huang. "I became a section leader, and then director, or the manager, of the department store," he grinned.
For Huang, it was easy to run a state-owned store under a planned economic system, under which everything was arranged by the state. "We had fixed channels to buy goods and fixed prices to sell them, so the only task for us was to make commodities appear on sales counters.
However, small private stores have mushroomed since 1980. Their agile changeable prices and fast convenient good supply channels had inevitably weakened the sales volume and profit of state-owned businesses.
It was at the intersection of the 1980s and 1990s that Huang felt the real impact created by the reform and opening up. In 1993, Huang took over a newly set-up retail textile store, separated from the Danyang Department Store. The new company, one of those operating at a deficit, covered an area of 1,200 sq. m. and involved more than 170 employees and 90 retired workers, whose pension should be paid by the company.
However, the conditions were that the company, no longer limited by a mandatory planned economy, had free channels to purchase its goods, and had autonomous rights to distribute profits. These favorite conditions had laid a good foundation for the firm's future development.
The company began to adopt a contract system, fixing each employee's job and responsibility and raising their wages. The move, also quite popular throughout China in that period, had greatly ignited the enthusiasm of the workers.
By 1996, the smaller retailer had set up the 9,900-square-meter Danyang Commercial Plaza. Later Huang became deputy head of the city's Bureau of Commerce.
From a public servant to a private entrepreneur
In 1998, many retail businesses in the city suffered losses due to the financial crisis in Southeast Asia. The city government pulled all state-owned assets out from retail sectors in 2000 and evaluated these businesses then turned them into limited companies.
Following the assets appraisal, the Danyang Commercial Plaza was transferred into a shareholding company with 28 shareholders. Huang held 51 percent of the shares, becoming chairman of the directors of the retailer.
It was a big challenge for him to take the shareholding company that had a debt of 40 million yuan ($4.83 million), needed to pay wages to over 400 employees and take care of 180 retired workers, as well as to ensure 10 million yuan ($1.21 million) of operating funds preparing for purchase of goods.
"I would have been less likely to take over such a company if it were 20 years before, but the changing national situation encouraged me to realize my potential and my capabilities," Huang said.
Although his investment in the Plaza had already paid off, he found that he is facing new challenges and pressures with an increasing number of foreign retailers entering China's market. "We need to develop a diversity of economy with a purpose to expand our businesses, and I will continue to realize my potential," he said.