You Li, 37, is a senior manager working for a German automobile manufacturer.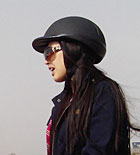 "I entered the company at the age of 27 as a rookie secretary; and now I am senior manager. I think my 10-year career has been reasonable and satisfying," You told Beijing Review.
In fact, You's employment with the foreign company came about through an unconventional path. She taught German at a university after graduating from Beijing Foreign Language College (now Beijing Foreign Studies University). In the mid 1990s, she quit the job and entered the automobile company.
In the early 1980s, soon after the reform and opening-up policy was implemented nationwide, foreign companies rushed to the Chinese mainland, where favored policies and cheap labor were offered. As a result, branch offices of multinational companies mushroomed; local employees, who had higher pay and a better working environment than their peers working for the state-run institutions, became the enviable "white collars."
"My parents were shocked and felt pity for my abrupt resignation, because the state-run institution, in their eyes, was the most stable and reliable working place at the time. They thought I was too emotional and were worried about my future," said You.
"I was told million of times how risky my new job would be; and I could not help ask myself one question, 'Was I too emotional? ' It was real torture for me," You noted. "Upon entering the new company, I did not sleep well and sometimes felt the future was bleak."
You's indecision and insecurity gradually disappeared as her career got on track and developed well. She was assigned important tasks because of her fluency in both English and German; her salary increased rapidly, which enabled her to purchase a car and house.
"It is indisputable that my sense of security at the very beginning came from the good income I earned, which was much higher than my classmates who worked for state-run institutions. The company covers all the required insurance as the country's social insurance system is better now," said You. "My parents won't have to worry about me any more."
The legacy that You gained from her job was to learn how to cherish the opportunities at work. "Indeed, it's a huge pressure to work for a foreign company. For example, it becomes a routine that we will get to the office soon after we returned from a business trip. But on the other hand, busy working brings me a sense of achievement and security. I learnt from my foreign colleagues that it is better to work hard than to find a job hard," You stated.
"I've witnessed layoffs several times in the past 10 years; with colleagues reacting in both tears and calmness. I think it's a good way to demonstrate a rising self-confidence. At the same time, we have to adapt to new situations by improving our own capabilities," she continued.
Not surprisingly, having further study is popular among foreign company employees; You is no exception. She is now taking a part-time masters course in administrative management, after finishing self-taught finance. "I think lifetime study is important for all of us, not specifically for white collar employees. As an old Chinese saying goes, 'It's never too late to learn.' It is the only way to escape from being fired," she added.
In recent years, You has found that the income gap between foreign companies and state-run institutions started narrowing, as economic integration between China and the world began intensifying. "At that time, the only difference among companies was good or bad management, rather than whether it was a foreign or state-run one. The environment for competition will be more open and fair," You noted.
You said sometimes she would imagine what her life would be if she had stayed as a university tutor. "I would say that despite minor pity, I have gained a sense of achievement from my current job, which, in return, broadened my views," You told Beijing Review. "The most important thing is that this is my own choice from where I feel free like a bird."