When Rick O'Shea, a now 50-something American guy, came to Shanghai in 1996 to produce a brand new radio program named "Joy FM", he couldn't have predicted how much the Chinese audience would like it.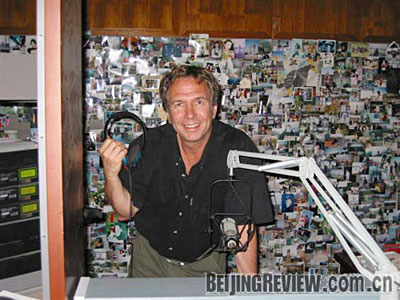 Rick O'Shea stands in front of the Great Joy Wall in his studio (COURTESY OF RICK O'SHEA)
Born in Detroit, Michigan, O'Shea obtained a bachelor degree in English literature from East Michigan University in the 1970s. He then traveled to Prince Edward Island on the east coast of Canada to become a street painter. In the mid 1970s, he returned to the U.S. and served as a radio DJ in Florida.
His connection with Chinese culture did not start until 1980 when he was offered a job in Taipei.
"I got an offer from the International Community Radio Taipei when I was doing radio programs in Hawaii. I asked my friends, 'Do you know Taipei?' Living in a foreign place is a challenge for me, but I just love it. I like the culture shock experience because it makes me feel alive. The more you don't understand the more fascinating it is. The challenge is to accept and to adapt," O'Shea told Beijing Review. "It was maybe the perfect introduction to China."
Five years later, O'Shea moved to Hong Kong, working for Commercial Radio, the Metro Broadcast, and also for the TVB Pearl English channel as a presenter.
A sense of belonging
The first time O'Shea came to the Chinese mainland was in 1994. The destination was Shanghai.
"I really didn't want to live there because it was pretty dirty compared to Hong Kong, and pretty undeveloped," he recalls, but in 1996, O'Shea got a job offer in Shanghai.
"I lived in Hong Kong for more than a decade and got residency. But Hong Kong became a very concrete place and things were changing at the radio station where I worked. People told me that Shanghai was kind of like Hong Kong many years ago. So I thought it would be great, for I didn't want to lead a regular life," said O'Shea.
The work place for O'Shea and his Chinese co-worker Ying Feng was far from satisfying -- they made programs in a cold, dark studio in an old-fashioned building.
"The real secret to radio is to have a partner who you get along with and never get too close to. Ying Feng was a great partner. It's like you come from different places, and you'd like to share experiences with your friends, on a daily basis."
"Sharing is a very Chinese thing; and I learnt it from the Chinese people," he added.
O'Shea settled down in Beijing by the end of 1997 and brought the program to the state-run China Radio International (CRI). It was on air every night in many cities nationwide. One third of the playlist was popular Chinese songs, and the rest were foreign ones. Jade Wang was his new partner.
O'Shea created a unique opening for the program -- a bilingual greeting: "Ni hao are you?" It received a warm welcome from the audience.
"I was on the phone one day and said 'Nihao (How) are you?' It just slid the two greetings together. I thought it was a nice way to start the program, because it was bilingual and said what our program was. And by using that, we achieved a catchphrase so people who know it are our people," said O'Shea.
"We also had a 'Joy Family' and the 'Great Joy Wall'. The audience could send pictures to us. If they did, they really became part of the program. Part of the radio is imagination," he continued.
"You can imagine that if you send a picture, just like a ticket you become part of the family. The audience, such as university students and people who moved to Beijing from other places, won't feel like a little person in the middle of nowhere. The program gives them a sense of belonging. That's what Joy FM was all about," he added.
In 2007, however, the program was stopped.
"Some people say that Easy FM was the first bilingual radio program on Chinese mainland, but I'm sure that Joy FM was the first one that people loved," he said proudly.
A positive attitude
"I like to live in the heart of each city I've lived in, so that I could mingle everyday and get kind of lost in the crowd," he stated.
"I bought rollerblades. I just feel it's so cool to get around Beijing, because there are bicycle paths around the city, and it's a flat city. I skate into hutongs, the Forbidden City and buy coffee at Starbucks. Just so much fun!" O'Shea told Beijing Review.
Beijing has changed considerably in his eyes -- it's become more modern and more livable, compared to 11 years ago; but the people remain the same.
"I like to go some places at the beginning of real change. Beijing was not very modern at the beginning. If I paint the color of Beijing, it would be the red brick. When you live in a place, it's hard to see the changes. I was just the person who went through the changes. Sure you can see the changes everyday, but you don't feel it when you are going through it as much as somebody might be coming here over 10 years ago," he said.
"Maybe it's the radio that gave me the entry card to the city, and the ability to become part of it and people's lives. If people ask me where my home is, I say right now it's in Beijing," he continued.
Currently, O'Shea is a freelancer who is busy teaching English, writing a novel, a movie, and his autobiography.
"If you want to keep your attitude positive, you can. Each time at the end of the program I would say 'always looks for the joy in life.' If you do so, you will find it."